Oksana Grigorieva Accuses Mel Gibson of Hitting Daughter in New Recording, Report Says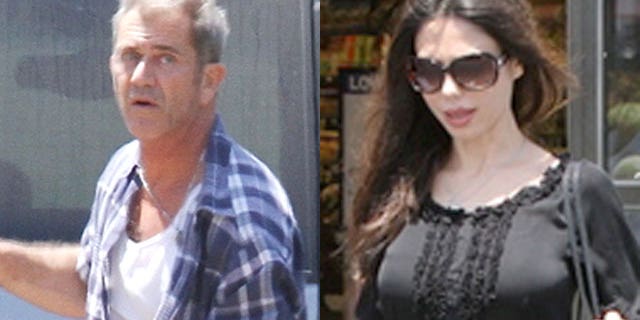 As if the first five tapes of Mel Gibson screaming, ranting and threatening his ex-girlfriend Oksana Grigorieva weren't enough to potentially cost him custody of his infant daughter, a sixth tape just released contains even more unbelievable seething tirades, according to Radaronline.com.
This latest tape could be the most detrimental to his bid for custody of the former couple's infant daughter, as Oksana Grigorieva is heard accusing Gibson of hitting the baby. Gibson never denies it, instead telling her "no one will believe you."
"You hit me, and you hit her while she was in my hands! Mel, you're losing your mind. You need medication," she tells him on the newly released tape.
While lawyers for the two have been battling it out in court for custody of their baby Lucia, a criminal investigation has been launched against the 54-year-old actor.
CLICK HERE TO LISTEN TO THE SIXTH TAPE AT RADARONLINE.COM
"You will not have this child. Mel, you're imbalanced," Grigorieva tells Gibson in the latest recording. "There's something wrong with you, you need medication. You cannot raise this child with [these] symptoms, you're acting as a crazy man right now."
Gibson responds explosively, slamming her for being a gold-digger:
"You need a f**king kick up the a** for being a b*tch, c*nt, gold digging whore … And I want my child, and no one will believe you … And Im not giving you my house and you can rot. And I'm not giving you my house unless you crawl back, suck my c*ck, and say you're sorry, in that order. Do you understand me?"
LISTEN TO EXCERPTS OF RECORDING #1 AT FOXNEWS.COM.
LISTEN TO EXCERPTS OF RECORDING #2 AT FOXNEWS.COM.
LISTEN TO EXCERPTS OF RECORDING #3 AT FOXNEWS.COM.
LISTEN TO EXCERPTS OF RECORDING #4 AT FOXNEWS.COM
He continues on telling her she offends his "masculinity, my maleness, my being, my soul."
According to RadarOnline, representatives from the California Department of Child and Family Services are looking to speak with Gibson this week after interviewing Grigrorieva's 12-year-old son from a previous relationship with actor Timothy Dalton.
Gibson's lawyers have had no comment to Radaronline.com regarding the recordings that the website has been releasing over the past several days.
POP TARTS: Oksana Grigorieva Could Face Criminal Charges, Lawyer Says
Meanwhile, TMZ reports that Grigorieva sent Gibson several text messages saying she recorded the conversations because he did not keep his part of an alleged deal to support her. According to their sources, Gibson's people will use those messages as proof of possible extortion, therefore rendering them inadmissible in the custody case or any criminal case.
RELATED: Readers Say There's Still Hope for Mel and Oksana.