Nicole Kidman says she doesn't mind being nude for a scene: 'It should never be about me'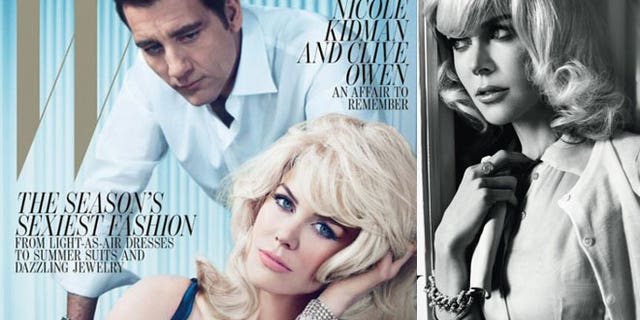 She may be a mom in her forties in a city obsessed with youth, but actress Nicole Kidman isn't exactly shy about her figure. In the new issue of W magazine, Kidman, 44, admits she doesn't "mind being naked" for a scene.
Having bared all twice for "Fur" and "Eyes Wide Shut," Kidman tells W, "Maybe as I get older, and now having had a baby, it might be different, but I enjoy not letting my issues get in the way of a performance. Once I start putting all my little insecurities in my mind, I'm not actually acting. Then it's about me – and it should never be about me. It should be about the character."
Kidman appears in the mag in a glamorous Old Hollywood-inspired shoot with her "Hemingway & Gellhorn" co-star, Clive Owen.
The film is very sexually charged as it follows the relationship between Ernest Hemingway (Owen) and journalist Martha Gellhorn, who was his mistress-turned-wife. The HBO film follows the couple who spend two years reporting from war-torn countries.
"The sex was very important in that relationship because that's the way she cuts Hemingway off," Kidman said.
Still, she admits the scenes were intense and it made her question the director.
"I kept asking Phil Kaufman, the director, 'Is all this sex important for the story?'" she said. "I wanted to make sure he wasn't just getting off. But these were two people who could make love when a building was falling down around them. They had passion."