NFL National Anthem decision prompts celebrity reactions on social media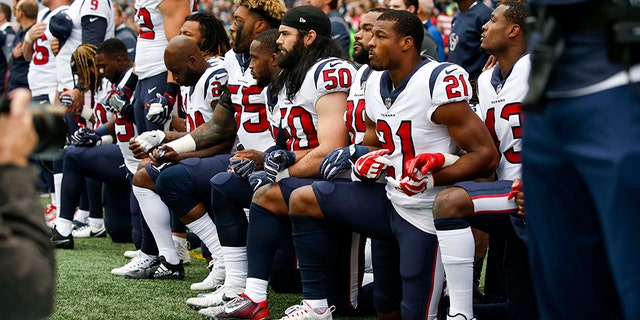 NEWYou can now listen to Fox News articles!
Following the controversial decision by the NFL to fine players who don't stand during the national anthem, celebrities and people of note took to social media to voice their concerns with the new policy.
On Wednesday, NFL Commissioner Roger Goodell announced that all team and personnel will stand for the performance of the anthem at games or they will be fined and penalized for failing to do so. However, the NFL is getting rid of its rule that all players must be on the field for the performance, allowing those who wish to protest the anthem to stay in the locker room until it is over.
The debate about standing for the anthem began when 49ers quarterback Colin Kaepernick began kneeling during the performance of the national anthem in an effort to protest racial inequality in America. President Donald Trump made remarks that the protest was disrespectful to the flag, prompting a heated debate among NFL fans about whether or not protests during the anthem are sound.
With the NFL's new ruling, a handful of celebrities took to Twitter to voice their opinion on the matter.
"The @NFL's decision is in no uncertain terms racist," wrote "Love Simon" star Natasha Rothwell.
"The NFL will now impose a fine on players who kneel during the National Anthem but don't worry, they're still ignoring their players with traumatic brain injuries," comedian Jim Jefferies wrote along with a video about the kneeling controversy from his Comedy Central show.
"Oh NFL! I love you! What better time to curtail free speech than during the National Anthem! USA! USA!! USA!!! Back in the USSA!!" wrote filmmaker Michael Moore.
"The NFL is either … 1. Totally tone deaf to the social issues players are kneeling about, and clumsily navigating a changing societal landscape. 2. A racist cartel who'd actually rather silence those voices in the name of commerce. Hint: It's the second one," wrote Van Lathan, who recently got into a sparring match with Kanye West over politics at TMZ.
"Someone once gave me a book called "Be so good they can't deny you". I'm here to tell you that for women/POC this only works in competitive sports. Unless you start kneeling for racial justice," said director Lexi Alexander.
While most were upset with the NFL's ruling, conservative actor James Woods felt it didn't go far enough.
"Personnel who choose not to stand for the Anthem may stay in the locker room...until after the Anthem has been performed." So Goodell and the NFL figure if the troublemakers aren't on camera, they'll start getting fans back? #lol #BoycottNFL," he wrote.