New York Jets QB Mark Sanchez in semi-nude viral dance video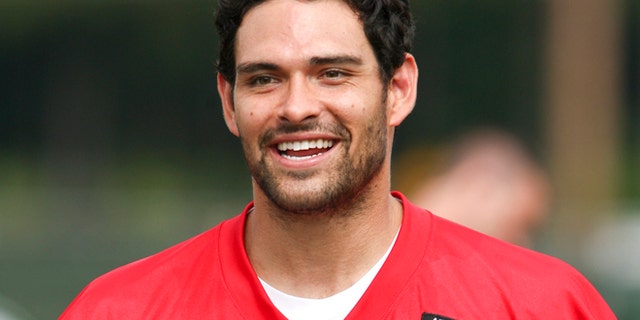 It looks like Mark Sanchez may have gotten himself mixed up in another buttfumble.
A video posted online appears to show the Jets quarterback and GQ cover boy bare-bottomed and dancing with two women at a swanky house party.
The 20-second clip, posted on TerezOwens.com, is jam-packed with cleavage, wine bottles, puffs of smoke and what the website says looks like Sanchez cheerfully dropping his trousers.
Though the party animal isn't ID'd, he looks a lot like Sanchez and wears the signal-caller's signature, soccer-style headband.
The website Deadspin pegged one of the females in the footage as Alana Kari, reporting her social media accounts Monday night shared videos of her on a getaway with friends in California's Napa Valley. She has since removed the video.
Reps for Sanchez could not be contacted last night.
The 26-year-old quarterback, a California native, is preparing to fight for his starting job in his fifth season, after a disastrous 2012 in which he was benched multiple times.