NBC News publishes survey about sexual harassment day after Lauer firing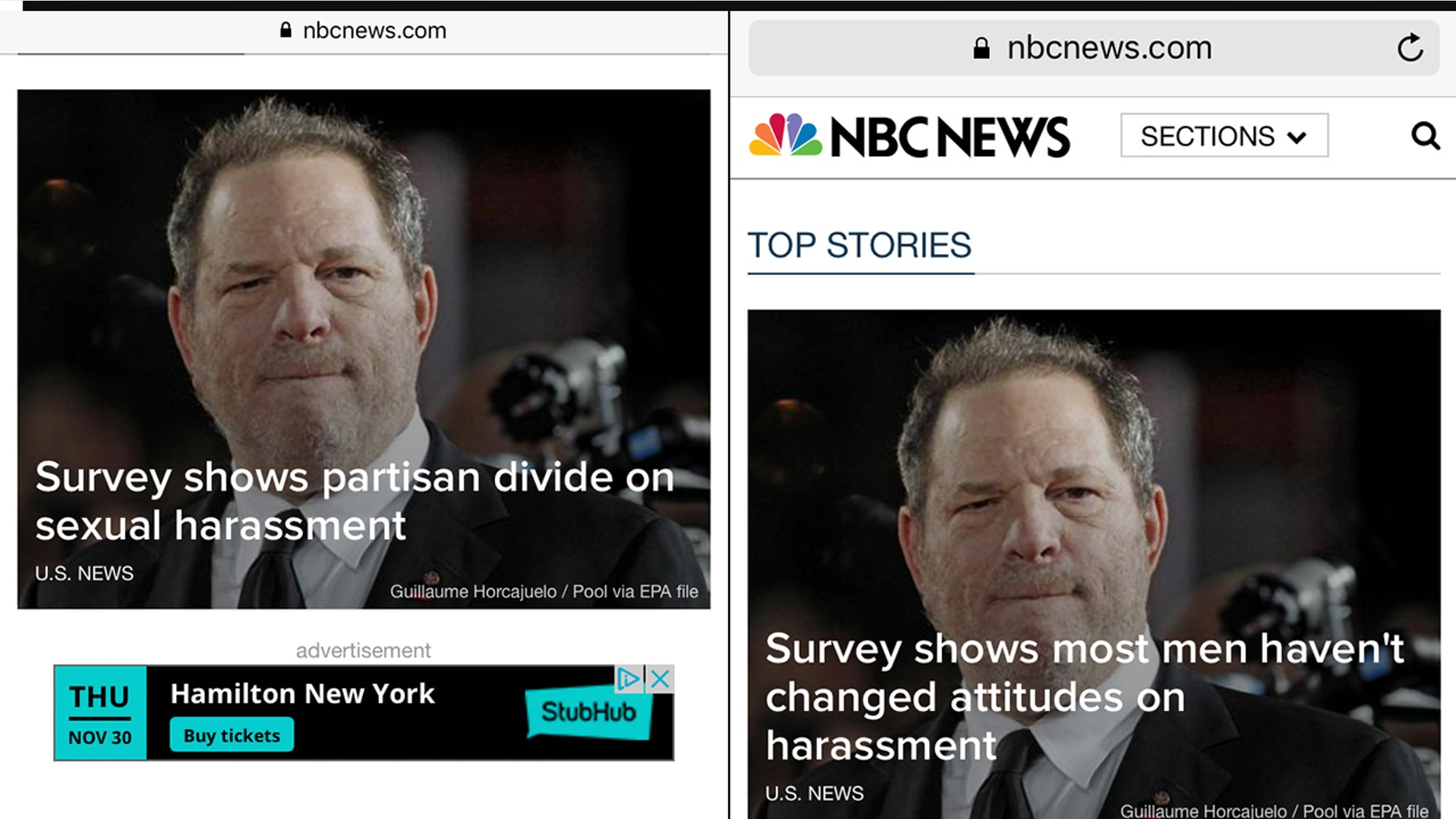 Is NBC News changing the slant of its coverage of sexual harassment in the wake of Matt Lauer's sex assault scandal?
An NBC News article about a sexual harrassment survey conducted with the help of Survey Monkey was published as Lauer dominated the headlines Thursday. The accompanying story was originally promoted on the network's home page with a decidedly political angle, before being quickly changed to a more generic headline.

NBC News' initial take on the survey used the homepage-facing headline "Survey shows partisan divide on sexual harassment." The headline was later changed to read "Survey shows most men haven't changed attitudes on harassment."
A portion of the story focuses on the various reactions among Democrats and Republicans to sexual harassment and seems to show Democrats being more sensitive to the current climate.
"The NBC/SurveyMonkey poll found a sharp partisan divide in reactions to the scandals. The survey found, for instance, that Democratic men were more than twice as likely as Republican men to say they had reflected on their own behavior, or their attitudes toward women, since the wave of sexually charged scandals began," the article reads.
"Some 68 percent of men who identified themselves as Republicans or leaning toward the party said they had not reflected on their own behavior or attitudes toward women. Among Democratic men, 66 percent said they had reflected on the issue recently, while 33 percent said they had not."
The breakdown from the survey and the initial headline, however, is in sharp contrast with how many have reacted to learning the news about Lauer's alleged misdeeds.
On Wednesday, after his firing was announced, many used the opportunity to point out that sexual harassment patterns can't be tied to any particular political parties.
Lauer was employed by NBC, which owns the left-leaning MSNBC network.
On Wednesday, "Today" anchor Savannah Guthrie promised NBC would be "covering this story as reporters." NBC News published several updates about Lauer on its website throughout the day, before the website published early Thursday the findings of its sexual harassment survey. That survey polled 3,772 people beginning on Monday, two days before the Lauer news broke, and ended Wednesday Nov. 29.
The timing of the survey, which evaluated the frequency of sexual harassment in the workplace and respondents' attitudes about sexual harassment, was awkward given the recent reports surrounding Lauer's behavior at that very same news operation.
One woman told The New York Times that he sexually assaulted her in his office at 30 Rock at NBC's headquarters, and another woman complained directly to NBC executives Monday night, spurring the longtime host's firing.