NBA star Jason Collins' ex-fiancé Carolyn Moos speaks out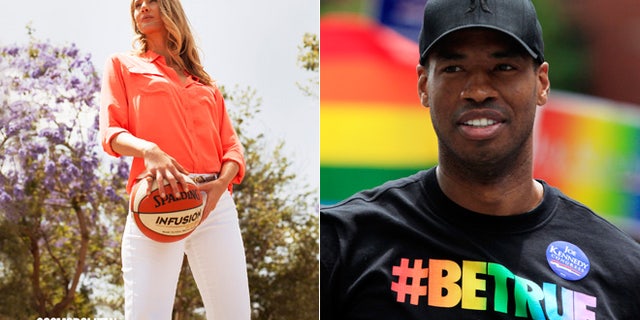 Before NBA star Jason Collins revealed he was gay, he was engaged to Carolyn Moos.
In the latest issue of Cosmopolitan, Moos shares how she was shocked to find out the man she dated for eight years had called off their wedding because he was gay.
"The day Jason canceled the wedding was surreal. It was July of 2009, and he had just returned home from a road trip with his twin brother, Jarron… He told me, 'You may want to sit down.' I loved this man deeply," Moos told the magazine. "His words didn't make sense to me, and they hit me hard, freezing my heart. 'I'm just not sure,' he said. There were no tangible reasons, no explanations."
Moos said she only found out the truth in April, when Collins came out to her on the same day an article revealing he was gay hit newsstands nationwide.
"Reporters zoomed in on me, thrusting my name into the news. My inbox exploded with emails from women saying the same thing had happened to them. I'm sharing what I've learned from my experience in hopes that it might help others."
Moos said after Collins broke off their engagement, she blamed herself.
"What I have learned is that my mistake was in thinking, 'What did I do wrong?' I did nothing wrong. I was true to myself. I understand now that you can never truly know what's going on in the mind of another person, no matter how well you think you know them."
The 35-year-old added that since Collins big reveal, she has had little communication with him.
"As I tell this story, it has been several weeks since he told me his news and he has made no further time to talk, despite saying he would do so. I am sad that the media seems to be a higher priority. I hope this changes in the coming weeks, as I value open dialogue more than anything."
Click here to read the entire interview in Cosmopolitan.