'Nashville Wives': Religion and morals brought us together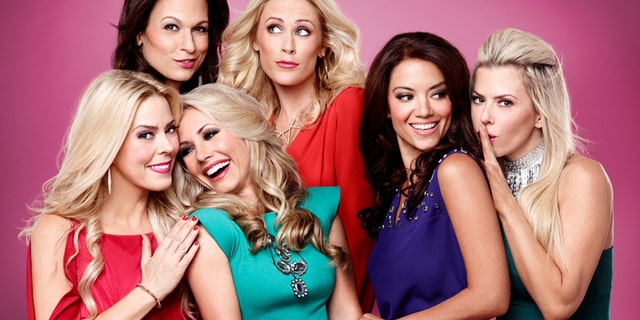 NEW YORK – They're not your typical reality TV housewives.
At 34, former Hooters girl Cassie Chapman said her life has changed tremendously since she married Christian music singer and songwriter Gary Chapman, 56.
The couple recently adopted a baby and religion has become a central part of her day-to-day life.
"I was a Hooters girl when Gary met me. Obviously, I had some cleavage showing," she told FOX411 with a laugh during an event at Blo Blow Dry Bar in Manhattan. "But when you get older or married—we have a baby now—it's time to be a little more conservative and for his line of work I can't be like that anymore. I respect my husband."
That's something Chapman and fellow "Private Lives of Nashville Wives" star Erika Page White have in common. The two said that their morals are what brought them together on the new TNT reality show.
"We've very similar with a lot of the stuff that we like, morally, our beliefs," White explained. "We get each other. I feel like I never have to explain myself to Cassie whereas some of the other girls may not understand me as well."
For the two women, who are about to be thrust into the spotlight when their reality show premieres, religion often takes center stage.
"God is center of our marriage for sure," Cassie said of her relationship.
White added that her future in the limelight is in God's hands.
"I always believes if God wants me to do more he'll open doors, and if not he'll close them."
In the past, White has had plenty of opportunities to shine. She worked on "One Life to Live" for five seasons and she has also been a prominent face in the modeling world. But these days, her life is more about unscripted TV and staying at home to raise her children.
"I've been around cameras my whole life, but I always had a script and a mark and a director telling me what to do," she said. "I, actually, am very private, so [filming the reality show] was definitely a different process for me mentally."
The two ladies always seem to have each other's backs. Chapman chimed in to add that "[Erika] has grown a lot" since filming began and White similarly defended Chapman against the notion that there is anything questionable about the fact that she married someone more than 20 years her senior.
"We've been together seven years," Chapman said. "It's funny to be because once you see us and how we react I am clearly the older one in the relationship and he's the idiot. He acts younger."
White piped up, adding, "She's so mature for her age."
It remains unknown whether the women will be so inseparable once the show airs. So far, they dished, they've only seen one episode of the new series.
"Private Lives of Nashville Wives" premieres Monday, Feb. 24, on TNT.