MSNBC election night anchor Rachel Maddow promotes pro-Mueller street protests
MSNBC host and election night anchor Rachel Maddow went on Twitter to promote a series of planned protests to "protect the Mueller investigation," but the anti-Trump star has denied helping organize the street marches.
Maddow tweeted on Wednesday, "It's happening. This is the 'Break Glass in Case of Emergency' plan to protect the Mueller investigation. 5pm (local time) protests tomorrow/Thursday Nov 8. We knew this would happen at some point -- the day has arrived."
Maddow is promoting a MoveOn event that claims "nobody is above the law" and accuses Trump of installing a "crony to oversee the special counsel's Trump-Russia investigation" on the heels of the decision to fire Attorney General Jeff Sessions and replace him with Acting Attorney General Matt Whitaker.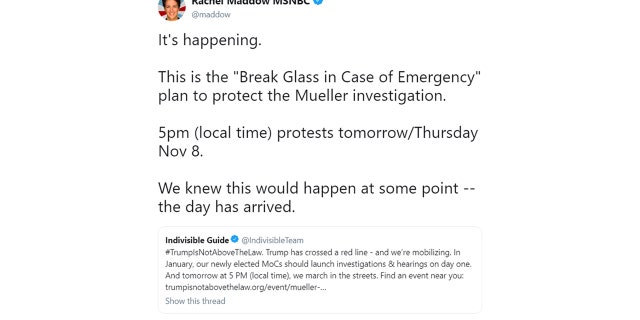 "The Nobody Is Above the Law network demands that Whitaker immediately commit not to assume supervision of the investigation. Our hundreds of response events are being launched to demonstrate the public demand for action to correct this injustice. We will update this page as the situation develops," the event's website says.
Maddow – who has nearly 10 million followers -- continued to promote the protest in a follow up tweet.
"Apparently 900+ #ProtectMueller events and protests planned for tomorrow already," she wrote to accompany a link to all the scheduled locations.
Maddow is a leftist activist but was recently paired with Brian Williams during MSNBC's Election Night coverage. News organizations typically use nonpartisan anchors for such assignments.
MSNBC did not immediately respond to a request for comment.
It appears that the pro-Mueller event has been in the works for quite some time, as the website's FAQ page still indicates that the rapid response organizers "hope these protests are never needed." However, Maddow has helped spread the word that Sessions being shown the door is the impetus for the rapid response group to take action.
The Drudge Report noted that "MSNBC's Maddow is organizing street marches," but the MSNBC star responded.
"Oh please," she wrote. "If reporting that something is happening is the same thing as 'organizing' it, I'm happy to take credit for organizing the new Trump family patent on Chinese sausage casings, too. And the resignation of Spiro Agnew; that was a tough one, but I'm a diligent organizer!"