MMA fighter José Aldo has 'no desire to fight again,' wants to end UFC contract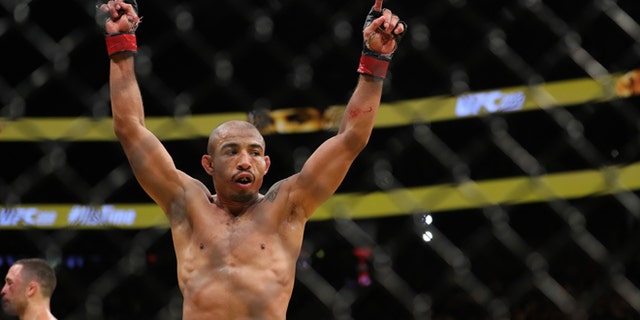 NEWYou can now listen to Fox News articles!
José Aldo is putting pressure on UFC brass to terminate his contract so that he can walk away from MMA fighting and focus on other projects.
The interim featherweight champion told reporters on Wednesday in his native Brazil that he is meeting with UFC officials in Las Vegas later this month to negotiate.
"I'm waiting. That's the situation now," Aldo said, according to MMAFighting.com. "We have a meeting scheduled to solve everything, but everything has been said already. We will see what happens in this meeting."
The website reported that Aldo has been contemplating retirement ever since losing to Conor McGregor at UFC 194 last December. However, he was convinced by his trainer and manager, Andre "Dede" Pederneiras, to fight once again.
"[UFC chief Dana White] can offer me anything. I started to get unmotivated back then," Also said. "I was the champion for so long I had the right to get an immediate rematch, and they didn't give it to me, and I wanted to walk in a different direction but Dede made me fight again."
He beat Frankie Edgar via unanimous decision at UFC 200, but he was not rewarded with a rematch against McGregor. Instead, the Irish fighter was given a lightweight title shot against Eddie Alvarez on Nov. 12 at UFC 205 without having to vacate his featherweight title.
Immediately after that, Aldo asked to be released from his contract and is now digging his heels in order to make it happen.
"I have no desire to fight again. I don't have any excitement to fight anymore. I have other projects in my life. I wanted to retire as champion, and I'm the champion today. I want to follow another path," he said.
Aldo said Pederneiras again has tried to get him to reconsider, but that he's "very decided" in what he wants.
"It's not like I want to retire, I'm too young and still have a lot left, but I have no desire to fight. And I have no interest in going to another organization," he said. "I won't leave the biggest league to fight in a small one. I'm a big team, and I want to be at the biggest league. If I'm not in the UFC, I'm not fighting anywhere else."
The 30-year-old continued, "If they release me, that would be great, but if not, what can we do? I have other projects, and that depends on this meeting we're having with them. If I want to retire, no contract can stop me ... They can't force me to fight. A lawyer already looked at the contract, but I don't want to fight [the UFC in court]."
Aldo said that if he is forced to fight again, he will tap out immediately.
According to MMAFighting.com, Aldo can retire whenever he wants to and doesn't need to get his UFC contract terminated; however the fighter does not want to burn any bridges.
"Because the same way I entered the UFC, I want to leave it," he explained. "If one day I think about coming back, I'd come back to the UFC. That's where I came from and where I deserve to be. But I have other projects."
Those other projects, he said, cannot happen until he is done with UFC.
"They have the rights for everything, even my breath. How can't they? I can't even breathe outside the UFC," he said.
Like us on Facebook
Follow us on Twitter & Instagram