Miss USA 2006 Tara Conner: Trump's success is the country's success
NEW YORK – It's been 10 years since Tara Conner was named Miss USA in 2006. The beauty pageant winner nearly lost her crown after allegations arose of Conner's drug use, underage drinking and sexual indiscretions.
But President Donald Trump stood up for Conner and allowed her to keep her title if she entered a drug rehabilitation program. One decade later, Conner is clean and advocating for addiction prevention.
"I am super grateful for what Donald Trump did for me...when he gave me a second chance," Conner told Fox News. "He treated [the situation] perfectly because I wasn't a bad person...I was a sick person."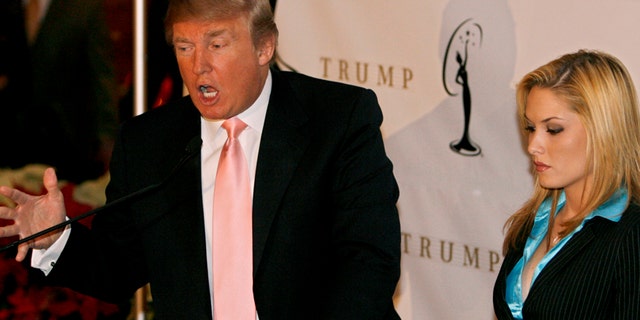 FOLLOW US ON FACEBOOK FOR MORE FOX ENTERTAINMENT NEWS
Conner said Trump's views about addiction and mental health is "what we need" and a lot of people voted for him "because they feel as though he can make a change about the addiction crisis."
"So his words so far have been amazing," she told us. "I'm really excited what action is taken."
Conner knows her views on Trump are not popular, especially among Hollywood stars who use their platform to speak out against the president. However, she said it's her job to leave her personal beliefs to herself and focus on the best way to advocate for her cause.
"I can't wait another four years to wait for another president to come in here," she explained of wanting to work with Trump on addiction prevention. "And this is a bipartisan issue so there's no reason for me not to go to the boss because who else would I go to?"
She added, "If we keep battling each other...nothing's going to get done. So I do 100 percent support him when it comes to the area of addiction and addiction services and mental health because his success is my success and it's the country's success and so of course I'm going to support that."
13 BIGGEST BEAUTY PAGEANT SCANDALS
Conner said she has reached out to Trump and urges people to sign a letter to the president on FacingAddiction.org to make their voices heard.