Miss Universe pageant declares the show must go on, but will anyone see it?
LOS ANGELES – What are the 51 state beauty pageant winners gearing up for July 12's Miss USA pageant going to do now?
NBC dumped Donald Trump on Monday and said the network would not be involved with – or even air – their jointly-owned Miss USA and Miss Universe pageants.
The Miss Universe Organization said in a statement sent to FOX411 the organization is "built on a foundation of inclusion" and they are "disheartened" by the recent events, but the show must go on.
"While world politics and other influences will undoubtedly play a role, the pageant will always seek to transcend controversy," the organization declared. "It is unfortunate that recent events beyond our control have only served to negatively impact the women who participate in the pageant, our state directors, our sponsors and our fans. We want our supporters to know we remain committed to them and we will be conducting the pageant, regardless of the current situation."
But finding someone to air the show seems to be the big challenge.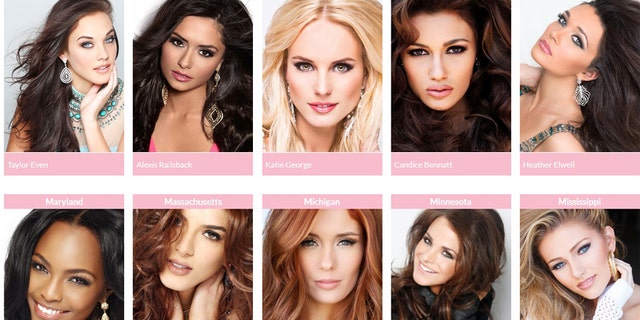 An insider connected to the Miss Universe Organization, which also operates the Miss USA and Teen USA competitions, says much of the pageant staff are "shopping for new jobs unless they can find a suitable buyer for Miss USA."
"It doesn't look like anyone will air it at this stage," the source told FOX411 of the scheduled Miss USA contest. "They could possibly buy time but they'll need to find someone to sell it to them… No one knows what will happen."
Plus, the show has lost one of its hosts. Cheryl Burke dropped out as a co-host on Tuesday. She was set to host alongside MSNBC's Thomas Roberts.
Click here to subscribe to FOX411's YouTube channel
And if no one airs the pageant, there will be 51 state pageant winners – many of whom have been in pageants for years and spent thousands of dollars to get to this point – with pretty dresses that only a few people will see.
Shandi Finnessey, Miss USA 2004 and 1st runner-up to Miss Universe that same year, said it's "incredibly unfortunate that it is not being televised this year."
"I have trained a lot of these girls for the USA pageant and they were so excited to share this experience with friends and family who would fly to Baton Rouge to watch them," said Finnessey, who founded the pageant training company Pageantology with 2003 Miss USA Susie Castillo.
Our insider also said that NBC "had been looking for a way out of airing the show for some time, and this was the perfect out."
"Ratings and ad revenue have slipped dramatically the last 10 years and it costs a fortune to put this on," the source explained. "They kept it going for 'Apprentice.' But now that is over with Trump. They wanted to clip it."
Ratings for the pageant have bumped up and down from a high of 8.1 million viewers in 2005 to a low of  4.6 million in 2013. Similarly Miss Universe attracted a high of 9.2 million in 2005 to a low of 3.8 million in 2013.
Furthermore, we're told the tourism body behind the host city Baton Rouge, LA – which has been heavily promoting the pageant and has invested a great deal of money in the event – is now "trying to salvage the millions they had tied up."
The mayor of Baton Rouge, Melvin "Kip" Holden, and the CEO of Visit Baton Rouge, Paul Arrigo, issued a joint statement welcoming pageant contestants, TV show or no.
"While we are disappointed with recent events, we want to make sure the Miss USA contestants, their families and visitors from all over experience Baton Rouge in the best way possible," the statement read. "We know all of our locals will roll out the red carpet for our guests as they visit the unique attractions throughout the region. We want them to be welcomed with the warm southern hospitality that Baton Rouge is known for."
In a statement released Monday, NBC announced that it was severing it business relationship with 2016 presidential hopeful Trump due to his "recent derogatory statements." During his campaign launch last week, Trump described immigrants from Mexico as "bringing drugs, they're bringing crime, they're rapists, and some, I assume, are good people."
"The Hispanic contestants are pretty upset about the comments," added the source. "But I am sure you'll hear a lot more about it after the competition is over."
Farouk Systems, whose hair products include Chi and Biosilk, announced on Monday it was "[withdrawing] sponsorship of Miss USA, Miss Universe, and Miss Teen USA Pageants."

"Farouk Systems does not agree with or endorse the statements recently made by Donald Trump about immigrants," said Farouk Systems CEO Basim Shami in a message posted on the company's Facebook page.
NBC declined to comment. VisitBatonRouge.com did not respond to comment requests.
Blanche Johnson contributed to this report.