Miranda Kerr Has a Secret Crush, Just Don't Tell Orlando Bloom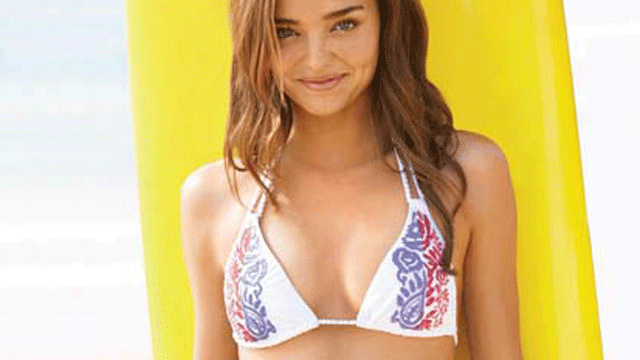 Miranda Kerr may be very much in love with A-list actor Orlando Bloom, but it turns out that the Victoria's Secret Angel wouldn't mind having a dinner date with another British heartthrob.
"I've always had a big crush on Prince William since I was a little girl," Kerr told Pop Tarts recently at the Victoria's Secret Store in The Grove in Los Angeles.
We asked Kerr what must one do to look as good as a girl who makes millions legging it in lingerie for the VS label.
SLIDESHOW: 10 Hottest Victoria's Secret Models Ever.
"I drink lots of water and get as much sleep as possible," Kerr explained. "I recommend drinking fresh, organic green juices and doing lots of yoga."
The 26-year-old Australian native has also embraced a form of Japanese Buddhism – Nichiren Buddhism – which, despite her angel wings, keeps her feet flat on the floor.
"I don't like to talk too much about it, but what I will say is that it is very grounding and really centering," she said.
But for those of you who will never achieve her physique (ie: about 99.99% of us), don't despair! The November airing of the famed fashion show on CBS drew in an average of 8.3 million viewers, but it seems Americans prefer watching larger folks pop pounds.
SLIDESHOW: The Big Victoria's Secret Runway Show.
According to the Nielsen TV ratings, "The Biggest Loser" won the time slot, with 10.3 million tuning in.
So have another donut and relax. You can be a TV star, too.