Miley's Sexy New Video Has Parent Group Singing the Blues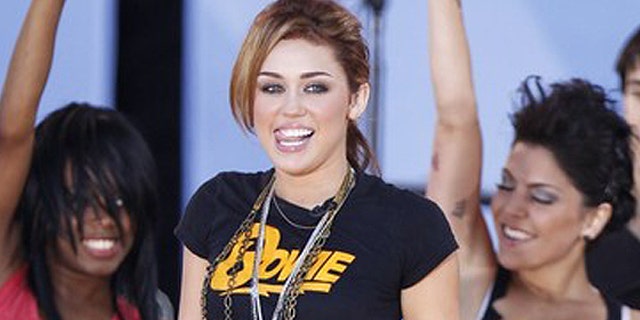 Seventeen-year-old Miley Cyrus' new music video for "Who Owns My Heart?," which features the young star rolling around in a bed without pants on, blindfolded and later dancing with girls and older men in a barely there outfit, is causing an uproar among parents.
Parents Television Council President Tim Winters told TMZ, "It is unfortunate that she would participate in such a sexualized video like this one. It sends messages to her fan base that are diametrically opposed to everything she has done up to this point. Miley built her fame and fortune entirely on the backs of young girls, and it saddens us that she seems so eager to distance herself from that fan base so rapidly."
Cyrus, who turns 18 on Nov. 23, has been trying to shed her Disney Channel Hannah Montana persona. She recently told MTV News, "I'm a completely different person now." She said she's tired of, "many people in [her] life telling you who you should and shouldn't be."
"What I am sure about is I'm going to rejoice and be happy to finally not have to be … well, to not be somebody I'm not exactly," she reportedly told Parade magazine. Cyrus did not disappoint some fans, as they took to entertainment websites to show their support.
One fan wrote, "I love Miley. She's finally found herself and she's comfortable with this, she's completely happy. I respect someone like that. I personally would never wear or do some of the things she does but that doesn't mean I can't look up to her. I look up to her for different reasons, not because of the clothes she wears or the things she does."
Another wrote, "Miley is a woman now and not just for kids. A lot of actors and singers do some stuff for kids and other things for older teens or adults."
And more simply, a fan posted, "I like the video and Miley can't always please little children!"
This is not the first time Cyrus has been criticized by parents of young fans. The star came under fire for her performance at the 2009 Teen Choice Awards, where she danced on a pole, and later when a video was released of her giving a lap dance to a much older man. Her father, Billy Ray Cyrus, famously defended his then 16-year-old daughter saying, "It's what people her age do."
Neither Cyrus nor her rep have yet to respond to the criticism. But her godmother Dolly Parton has stood up for the tween star.
"She'll land in the right place," Parton told FOXNews.com in June after Cyrus was filmed at a party dancing suggestively with an older man. "I really know she has everything it takes. She is just trying to find her way and she will."