Miguel crushes two fans during Billboard Awards performance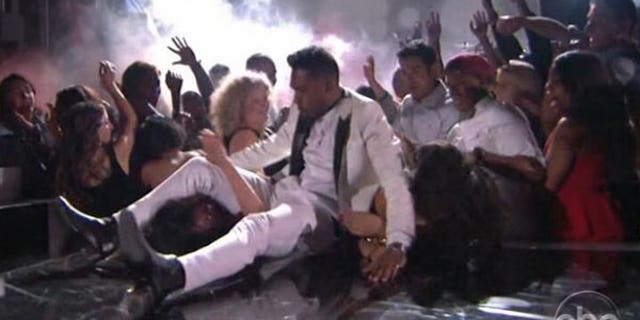 Miguel's high-energy performance of his song "Adorn" during the Billboard Music Awards on May 19 totally wowed the crowd, until the end when he tried to make a leap over the audience — and fell short. He landed on the edge of the stage, and ended up falling on two young women in the front row.
Miguel Falls At Billboard Music Awards — Hurts Fans?
While the 27-year-old singer was performing his hit song, he decided to take a leap of faith across the stage and jump over the crowd. Unfortunately, he overestimated his long jump skills and ended up landing on top of two young fans.
Miguel kept going, but the young women looked visibly hurt. One kept her head down for a few moments, and another looked like she completely left the crowd. It seemed like Miguel didn't really know what he was doing either, because he grabbed another woman in the crowd and kept singing to her.
Miguel Brings Hurt Girl Backstage
After his performance, Miguel clearly felt terrible about his performance blunder, and delivered a heartfelt apology and gesture to one of the injured women. He brought her backstage after the accident, and told her how sorry he was.
Even though it looked incredibly painful to be jumped on by the music star — especially with that height and at that speed — it must have made up for it to be backstage at the BBMAs.
The singer later tweeted: "Got caught up in the moment, thank goodness Khyati is okay."
Click here for more from The Hollywood Life.