Miguel breaks down talking about police violence at concert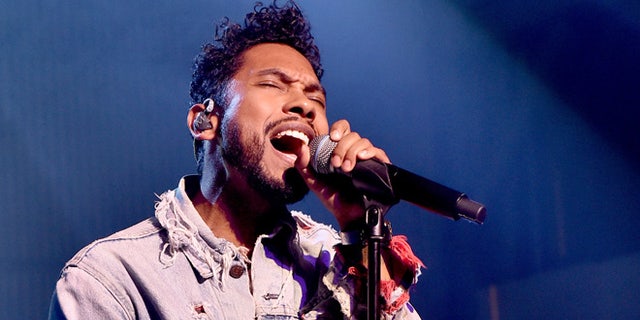 Miguel was overcome by tears when he addressed the police violence that dominated headlines over the past week.
The singer, performing at the London Wireless Festival this weekend, took time to address the fatal shooting of two black men – Alton Sterling and Philando Castile – who were killed by police in two separate incidents. In another incident, five white police officers – Brent Thompson, Patrick Zamarripa, Michael Krol, Michael Smith and Lorne Ahrens – were shot and killed during a protest in Dallas.
"We can't let s*** just blow over and not take action anymore," Miguel said. "Look, our children will inherit this Earth when we're gone. What are we leaving for them? What are we doing for them not, not tomorrow? Now!"
His emotional speech came just hours after he released "How Many," a new single dedicated to the Black Lives Matter movement.
"We cannot rest anymore," he continued. "We have to do something. We have to say something. I'm sorry if I'm preaching to you. But it's true."
The song includes the lyrics "I'm tired of human lives turned into hashtags and prayer hands…" and "I wonder how many black lives, how many heartbeats turned into flat lines…"
Miguel, who full name is Miguel Pimentel, said in an Instagram post that the song was written in his hotel room in London.
"I'll be updating this song as it evolves weekly," he wrote.
Like us on Facebook
Follow us on Twitter & Instagram