Michael Ian Black slammed after defending Louis C.K. on Twitter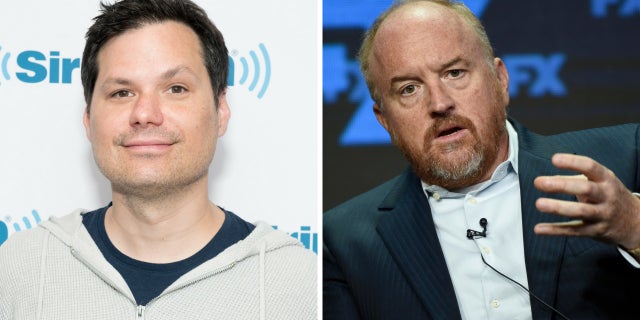 Michael Ian Black was slammed on Twitter after he defended disgraced comedian Louis C.K.'s return to stand-up months after he admitted to allegations of sexual misconduct.
The New York Times reported the Louis C.K. performed Sunday night at the Comedy Cellar in New York City for what appeared to be the first time since the allegations emerged.
Five women in November accused the comedian of inappropriate behavior. The comedian released a statement confirming the women's stories were true and expressing remorse for his actions. The actions resulted in the end of his production deal with FX Networks and the cancellation of a movie release.
LOUIS C.K. PERFORMS AT NYC CLUB FOR FIRST TIME SINCE ADMITTING TO SEXUAL MISCONDUCT: REPORT
Black defended the comedian's return saying he was "happy" to see him try to revive his career.
"Will take heat for this, but people have to be allowed to serve their time and move on with their lives. I don't know if it's been long enough, or his career will recover, or if people will have him back, but I'm happy to see him try," Black tweeted.
Black's tweet was met with criticism and the "Wet Hot American Summer" star tweeted again to clear up what he meant.
"I expect a lot of this, so I will say only that I'm not going to defend what he did or what he lost or what his punishment 'ought to be.' I'm only saying that we're in uncharted waters and we need to figure out how to move forward," he wrote.
Black issued a few more tweets clarifying his sentiment.
"My empathy isn't for Louis. It's for the recognition that we're in a cultural moment in which some men who do terrible things have no pathway for redemption. That lack of a pathway creates a situation in which we are casting people out but not giving them a way back in," he wrote.
"The #MeToo movement is incredibly powerful and important and vital. One next step, among many steps, has to be figuring out a way for the men who are caught up in it to find redemption," he concluded.
Social media users slammed Black's statement including actress Amber Tamblyn.
"I think we should be asking women, most especially the women in comedy, how they feel about this instead of explaining what should or shouldn't be allowed. Deferral to women in a moment like this is what allyship looks like, Michael," she wrote.
"Michael Ian Black's defense of Louis C.K. right now shows that men have more compassion for each other's embarrassment than they do for women who have been sexually assaulted," a social media user wrote.
"I'm so sick of men like Michael Ian Black worrying about the path back to redemption for abusive men. Where's the path back for their victims? Because their path back should be paved before the abusers," another person tweeted.
"Cool, your attitude is making it less safe for women comic to survive in their chosen field without being sexually assaulted and then lied about," another person wrote.
The Associated Press contributed to this report.