Michael Buble says son's cancer treatment is 'progressing well'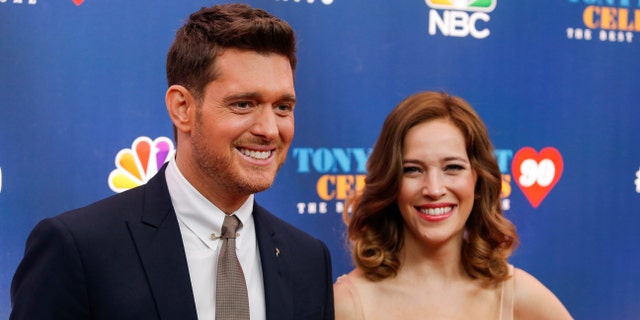 Michael Buble is singing a happier tune about his son Noah's progress undergoing treatment for cancer.
The singer and his wife Luisana Lopilato told E! News Friday, "We are so grateful to report that our son Noah has been progressing well during his treatment and the doctors are very optimistic about the future for our little boy.
"He has been brave throughout and we continue to be inspired by his courage. We thank God for the strength he has given all of us.Our gratitude to his doctors and caretakers cannot be put into words. We'd also like to thank the thousands of people that have sent their prayers and good wishes to us. As we continue this journey, we are greatly comforted by your support and love."
The couple also has a 1-year-old son, Elias.
More: Jessica Simpson's father begins radiation for prostate cancer
Upon the news of Buble's eldest child's cancer diagnosis, the performer cancelled a performance the BBC Music Awards in December.
He announced the devastating news of his son's illness via Facebook in 2016.
"We are devastated about the recent cancer diagnosis of our oldest son Noah who is currently undergoing treatment in the U.S. We have always been very vocal about the importance of family and the love we have for our children. Luisana and I have put our careers on hold in order to devote all our time and attention to helping Noah get well. At this difficult time, we ask only for your prayers and respect for our privacy. We have a long journey in front of us and hope that with the support of family, friends and fans around the world, we will win this battle, God willing."