Meryl Streep's feud with Donald Trump takes center stage in Jimmy Kimmel Oscars monologue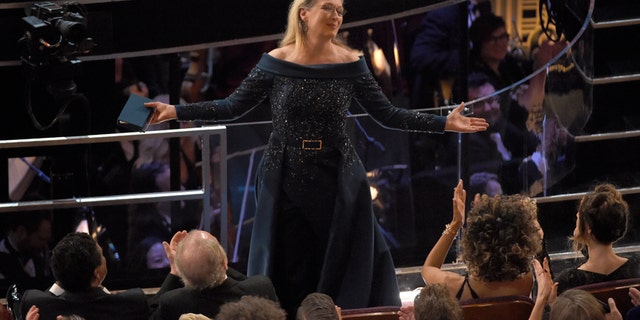 Meryl Streep's public feud with President Donald Trump took center stage in Jimmy Kimmel's opening monologue at the Academy Awards Sunday night.
Earlier this year Trump famously called the most celebrated actress of her generation (by a mile) "overrated."
Kimmel pointed Streep out in the crowd, with the actress playfully trying to hide behind her husband Don Gummer.
OSCAR RED CARPET: SO HOT, OR SO NOT?
"Meryl Streep has phoned it in for more than 50 films over the course of her lackluster career," Kimmel joked. "She wasn't even in a movie this year – we just wrote her name in out of habit."
(That's not actually true. Streep is nominated for Best Actress in "Florence Foster Jenkins.")
Kimmel then led the well-heeled crowd in a round of applause for the three-time Oscar winner
"Please join me in giving Meryl Streep a totally undeserved round of applause. The highly overrated Meryl Streep, everyone."
As a parting shot at the Trump family, Kimmel added. "Nice dress by the way – is that an Ivanka?"
The reference was also alluding to another public fight Streep found herself in surrounding quotes that designer Karl Lagerfeld gave to Women's War Daily magazine saying the actress didn't wear a Chanel dress because she wouldn't get paid for it. Lagerfeld backtracked on that, but Streep wasn't having it.
FOLLOW US ON FACEBOOK FOR MORE FOX ENTERTAINMENT NEWS.
"In reference to Mr. Lagerfeld's 'statement,' there is no 'controversy': Karl Lagerfeld, a prominent designer, defamed me, my stylist, and the illustrious designer whose dress I chose to wear, in an important industry publication," she said. "That publication printed this defamation, unchecked."