Meryl Streep Drops F-Bombs Backstage at Golden Globes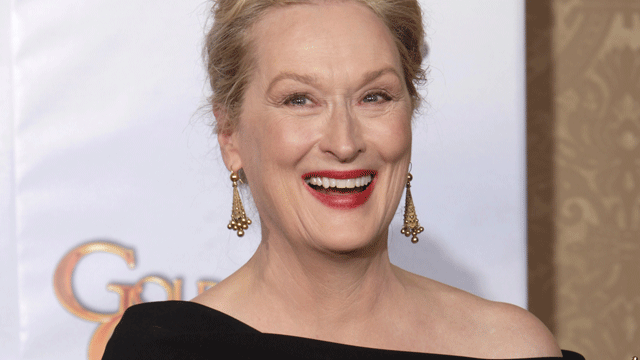 Meryl Streep is known as one of the most refined, charming and elegant ladies in Hollywood. So you can imagine our surprise when the winner of Best Actress in a Comedy or Musical for her role in "Julie & Julia" said a few naughty words backstage at the Golden Globes on Sunday night.
Addressing the fact that Julia Child was "not amused" about having a blog started about her culinary skills, Streep told Pop Tarts, "Julia Child was disgruntled because she felt this person was not being serious about cuisine. I think she was offended by the language. She's a lady of a certain age and certain time where you can't say f**k, f**k, f**k, all the time, and she was not used to it and I think it upset her."
GOLDEN GLOBES RED CARPET: 70 Stars Show Off Their Style.
Speaking of upsets, it turns out Streep was almost shunned from her hit role in 1995's "Bridges of Madison County" because she was (shock!) 45-years-old at the time.
"There was a big fight with the studio because they said I was too old and my co-star, Clint (Eastwood), was 65, which I thought was really old," Streep told Tarts. "He seems like he was a kid to me now. But Sandra Bullock is 45 now, and it is a little bit better. The perception of her is different than it was for me 10 years ago. The business has changed. I think it really has changed a great deal for women."
And although Ms. Streep manages to stay well away from the spotlight in her personal life, it seems she's still a little tempted to find out what is buzzing in the tabloid blogosphere.
"I always say to my daughters, you don't have to do anything you don't want to do and don't read things about yourself. Don't read the blogs. It is really hard not to Google yourself," she said." But it is much, much better for your mental health and everything else. You try to lessen the self awareness and self-consciousness."
However we're sure we're the words 'Meryl Streep' have gone into overdrive on search engines in last 48 hours, thanks to the mouth kiss she shared with Sandra Bullock at the Critics Choice Awards on Friday night. On that note, Bullock too has some words regarding the "double standard" of men vs. women in Hollywood.
"If you look at what Sarah Jessica parker has done, Meryl Streep – women do pull in some money and they do go to the theaters," Bullock said.