Mel Gibson Stars in New Movie After Seven Year Hiatus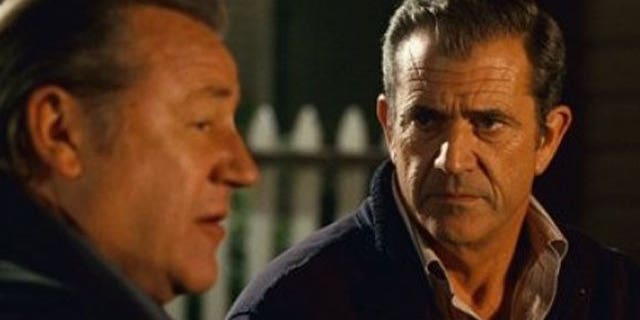 LOS ANGELES – The last time Mel Gibson starred in a movie, he was grappling with alien invaders and a misplaced faith in the sci-fi thriller "Signs."
That was seven and a half years ago. In the intervening time, Gibson became a cultural firebrand, directing the controversial 2004 box-office hit "The Passion of the Christ" and the violent 2006 action epic, "Apocalypto."
He also became a cultural pariah in July 2006 when, after being pulled over in Malibu for speeding and driving under the influence, Gibson made obscene, anti-Semitic remarks to the arresting officer after being handcuffed and put inside a police car.
Gibson largely disappeared after the incident, but returns to theaters Friday with a new movie, "Edge of Darkness," a thriller about a Boston police detective seeking revenge for the murder of his 24-year-old daughter. Receiving lukewarm reviews so far, the movie is similar in tone with past blood-drenched Gibson films such as "Ransom" and the "Lethal Weapon" franchise.
"It was time," Gibson, 54, tells The Associated Press. "I felt like getting back in the saddle. I felt like I was getting stale about seven or eight years ago. Stepped back, did some things I wanted to do. Did a few things I didn't want to do. And then time to come back."
"I don't think Mel eases his way back into anything," says "Edge of Darkness" producer Graham King. "Sure, we discussed very early on, 'Is this the right role for him to come back in?' I think it is, and hopefully moviegoers will agree."
Will they? Hollywood.com box office analyst Paul Dergarabedian believes Gibson picked the right movie for his comeback.
"In revenge roles, Mel Gibson has few peers," Dergarabedian says. "If you've been away for awhile, it's smart to go back to what people are comfortable seeing you do."
Some, though, question whether Gibson's public standing hasn't been permanently damaged.
"I think that drunk-driving tirade confirmed a lot of people's suspicions about the kind of person Mel Gibson is," says Matthew Traub, managing director at Dan Klores Communications.
Traub, who specializes in crisis management public relations, believes people are willing to forgive celebrities for substance abuse or sexual indiscretion but draw the line at bigotry.
Publicist Michael Levine, whose agency has represented Bill Clinton and Michael Jackson among others, agrees.
"I think he's done," Levine says of Gibson's career prospects. "He'll work, he'll exist, but I think he's seared his obit for life."
Gibson defiantly rejects the notion that he's damaged goods.
"It's 30 years ago that I lost my own personal anonymity," Gibson said. "And it's 30 years ago that the public humiliation began. And sometimes it reaches a global level. And what doesn't kill you makes you stronger. And I'm telling you right now, I'm one strong motherf----- because I'm right back at you."
Gibson also insisted his past notoriety will not affect his ability to work with Hollywood studios in the future.
"What scandal?" he says. "That's mostly newspaper hype, OK?! I can get in with the studio, work with them, or work independently as I wish. And I'll go on as I always have."
Gibson has been tentatively making the rounds to promote his new movie. He attended the Golden Globes on Jan. 17 and good naturedly played along when host Ricky Gervais brought a pint of beer on stage and jokingly introduced Gibson, saying, "Honestly, I like a drink as much as the next man — unless the next man is Mel Gibson."
He was also seen cheerfully working the phone bank at last week's all-star "Hope for Haiti Now" telethon.
But there have been missteps, too. A brief TV interview with KTLA entertainment reporter Sam Rubin turned tense when Rubin told Gibson: "Some people will welcome you back, some people will say you should never come back."
Gibson, defensive, leaned forward and asked, "Why?" Rubin replied: "Because of what happened before." Gibson: "What happened before?" Rubin: "The remarks that were attributed to you." Gibson: "The remarks that were attributed to me that I didn't necessarily make."
After the interview aired, Rubin questioned whether Gibson was ever truly sorry for the anti-Semitic remarks he made in 2006, particularly when he now contests the comments for which he widely apologized in the aftermath of his arrest.
While some may question Gibson's remorse, there's no doubting that people are still happy to make movies with him. Gibson just completed filming the offbeat comedy, "The Beaver," directed by longtime friend Jodie Foster, who plays Gibson's wife in the movie.
He has written a prison drama, "How I Spent My Summer Vacation" and will star in that movie later this year.
And he plans to direct Leonardo DiCaprio in a Viking epic that will employ Old Norse dialogue, a movie Gibson says will "put the V in Viking."
If that sounds a little out there, that's one reason why many are eager to welcome Gibson back in the fold.
"As a Jew, I have to say Mel Gibson's my favorite anti-Semite," says veteran film reporter Lewis Beale. "He's an incredibly talented guy both behind and in front of the camera."
Adds film historian David Thomson: "Gibson's not a tidy person. There's an authenticity to the unhinged characters he plays that sets him apart. Whether you like him or not, there's a daring there that makes him compelling."