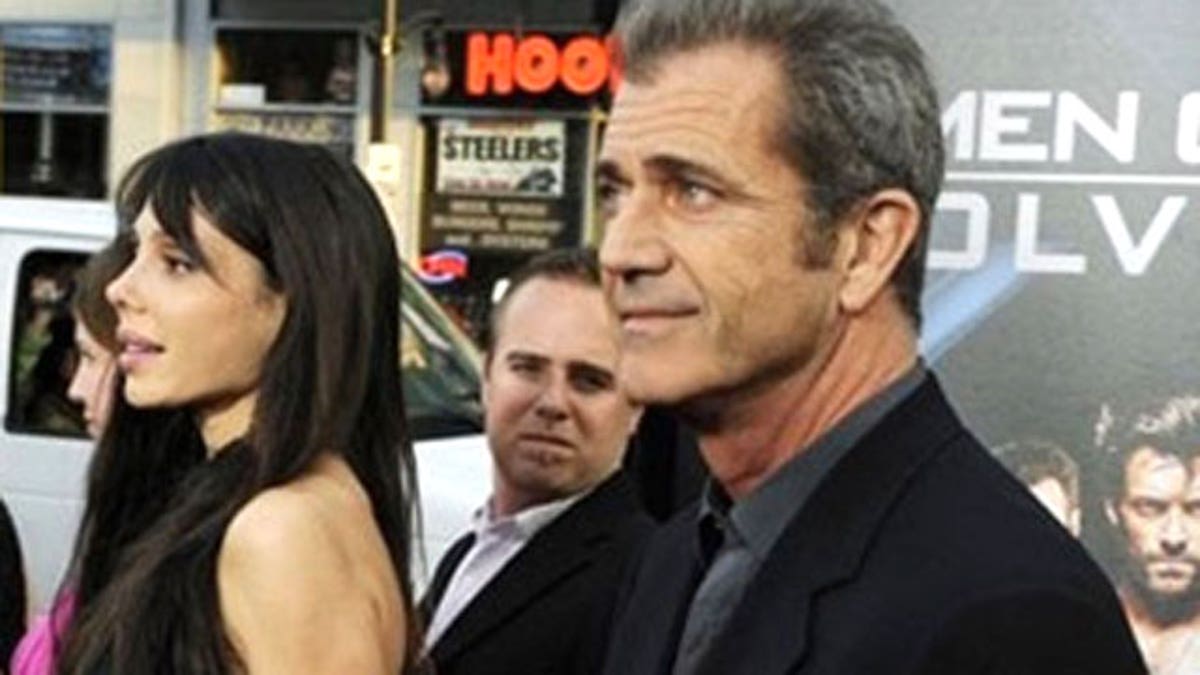 The Los Angeles Sheriff's Department released a statement Thursday confirming they had launched an investigation into domestic violence claims involving actor Mel Gibson and his ex girlfriend, Oksana Grigorieva, emanating from an alleged incident that occurred on January 6, 2010.
Grigorieva claims that on that date, the "Edge of Darkness" actor punched her in the face "more than once", knocking out a veneer, and causing a concussion and a broken tooth.
Sources close to Gibson denied the allegations to People magazine, and said he was solely attempting to stop her from shaking their 8-month-old daughter, Lucia.
Steve Whitmore, a spokesperson for the Sheriff's Department stated that the current investigation is preliminary in nature and no further information is available at this time. However an inside source told Pop Tarts that authorities are taking the alleged victim's assertions extremely seriously.
"It is hard to think she would just break her own teeth – somebody did it to her, and if it was Gibson, he won't get away with it," the source said. "Investigators are treating this case very carefully; they'll be determined to nail him. It's highly likely he'll do time (in jail) for this if found guilty."
The case will be submitted to the District Attorney's office once the investigation is complete, which could take up to a month.
A rep for Gibson declined to comment on the allegations, but said he was hoping to release a statement on his client's behalf this week.
The estranged couple is currently embroiled in a custody battle over daughter Lucia, and filed duel restraining orders against one another in June. Last week Gibson also hit the headlines after multiple reports cited audio tapes in which the actor allegedly embarks on profanity-laced, racist and derogatory tirades aimed toward Grigorieva.
So what consequences could the actor face if charged with domestic violence?
California trail lawyer, Mark Geragos, who said he has listened first-hand to the tapes that are currently under seal in the L.A Superior Court during the custody battle, said that prosecutors could potentially present a very solid case against Gibson if he is found to have acted unlawfully toward his former flame.
"It may be considered a domestic violence charge, which is battery or unlawful touching. This is generally classified as a misdemeanor which carries a maximum penalty of a year in jail. But if he hurt her severely, the courts could upgrade the charge to assault with enhancement of great bodily injury," Geragos explained. "The maximum penalty for that is four years behind bars in a state prison, and the DA's office almost always seeks state prison under those charges."
California attorney Stephen Scherzer told Pop Tarts that Gibson, given his high public profile and reputation, was likely to be a "great target" for the DA's office should they chose to make an example of him. But he said it is doubtful Gibson would serve out a maximum sentence, even if charged with a felony.
"Mel doesn't appear to be a habitual batterer, and if even he's found guilty his lawyers could broker a deal – perhaps spend 90 days in jail and then a probation period," Scherzer said.
According to Harold Copus, former FBI agent and owner of the Atlanta-based Copus Security Consultants, it may be difficult for investigators to even charge Gibson, due in large part to California's enforcement of the two-party consent law. This law requires both parties to agree on being recorded in private situations, and Grigorieva reportedly recorded Gibson's rant without his knowledge, which could be deemed inadmissable in court.
"It is mostly likely that Gibson's lawyers will ask for the tapes to be court-suppressed and will do all they can to have thrown out as evidence," Copus said. "Generally, domestic violence incidences like this to do happen behind closed doors and it's a classic he said/she said situation. The judge isn't stupid and I'm sure would have a good understanding of what is really going on – but the question is, how much evidence does Oksana have against him without those tapes?"
On the flipside, Geragos said that the two-party consent code carries exceptions when violence or extortion are involved, and that may provide strong enough grounds for the prosecution to freely use the tapes in the court of law if the situation arises.
Another determinant that could possibly work in Gibson's favor is the fact that Grigorieva's alleged domestic abuse claims are now six months old.
"Unfortunately when the evidence is not fresh, it is less likely that the case is taken to court," Geragos said. "If Oksana had filed a complaint to police on the day in early January, they would have arrested Gibson straight away. Police have a zero tolerance policy in these circumstances."