Megyn Kelly's ratings way down after Alex Jones interview
NEWYou can now listen to Fox News articles!
All of that free publicity couldn't push Megyn Kelly over the top.
Despite a week's worth of stories about her controversial interview with conspiracy theorist Alex Jones, the Q&A ended up being watched by only 3.5 million viewers, and was soundly beaten by CBS rival "60 Minutes," which drew 5.3 million viewers, according to Nielsen.
The NBC hour-long "Sunday Night with Megyn Kelly" program was criticized ahead of time because Jones had in the past called the 2012 shootings at Sandy Hook Elementary School in Newton, Conn., a hoax. Members of that community, where 20 children and six educators were killed, were among those who spoke out against NBC airing the interview, and a local NBC affiliate refused to even carry the program.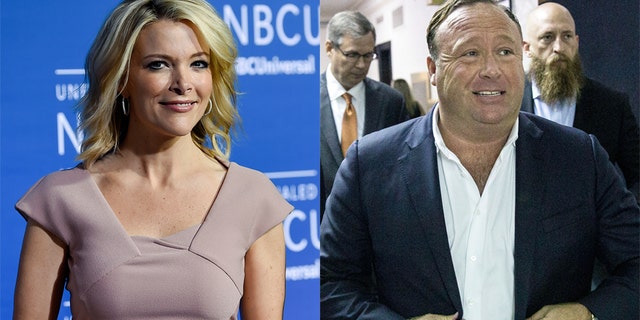 During the interview, Jones never gave a direct answer when the 46-year-old former FOX News host pressed him to admit he was wrong in his claim about the shootings.
MEGYN KELLY'S INTERVIEW WITH ALEX JONES GETTING COMPLETE OVERHAUL
The program took a nosedive in comparison to Kelly's debut on June 4, which featured an interview with Russian president Vladimir Putin. That interview drew 6.2 million viewers.
And Kelly didn't just lose viewers. Forbes reported JPMorgan, along with several local advertisers, dropped spots from the show or, in the case of the financial company, the enirety of NBC News, until after the interview aired.
But the controversy didn't end there. Before the interview, Jones leaked an audio recording of what he said was a phone conversation with Kelly. In the conversation, Kelly was heard promising she would not portray him as "some kind of boogeyman."
MEGYN KELLY WARNS ALEX JONES 'ISN'T GOING AWAY'
Shortly before the interview, which was aired on Father's Day, Jones released a video in which he offered condolences to families who had lost children in the "horrible tragedy" of Newtown, but did not refer to his previous comments disputing the killings.
A parent of one of the victims also spoke out. Nicole Hockley, who lost her 6-year-old son Dylan in the shooting, publicly announced she wouldn't view the interview for "obvious" reasons.
Relatives of the shooting victims have called Jones' comments hurtful and said he has encourage people to harass them. Lawyers representing 12 people who lost loved ones in the Sandy Hook massacre wrote to the network and asked them not to air the interview.
Prior to the interview, Kelly released a statement on Twitter June 13 explaining the importance of airing her conversation with Jones.
Al Tompkins, the Poynter Institute's senior faculty for broadcasting and online, told Forbes that Kelly will need to boost her ratings to ensure her reported seven-figure salary with the network. But he says there is still plenty of time.
"What will show her success long term is if she gets the ratings she needs or not," he explained. "These programs take a while to find an audience, and you won't find it in the first few months."
The Associated Press contributed to this report.