Meghan Markle's future sister-in-law arrested for assault: report
Meghan Markle's future sister-in-law, Darlene Blount, was reportedly arrested over the weekend, months after she was taken into custody for another alleged assault incident involving her fiancé, Thomas Markle Jr.
Blount, who is engaged to Meghan's half-brother Thomas Markle Jr., spent the night in Josephine County Jail Friday on a fourth-degree assault charge, the Daily Mail reported. A source told the news site that police received a domestic violence call at Blount and Markle's home in Grants Pass, Ore.
The 37-year-old was released Saturday after posting bail. No further information was given on the arrest.
Josephine County Sheriff's Office did not immediately return Fox News' request for a comment.
SAMANTHA MARKLE SAYS FATHER'S DEATH WILL BE ON MEGHAN; THOMAS MARKLE SAYS HE WON'T STAY QUIET
Blount's Friday night incident came just months after cops were called to the couple's home on New Year's Eve. Blount claimed Markle was beating himself up, drinking and becoming jealous because he thought she was trying to "f--- some dude." She also reportedly told police she was "scared" of her fiancé and alluded to the fact that he was not mentally fit.
But when police arrived, they didn't believe Blount's story and arrested her on assault charges. No charges were pressed at the time and she was released.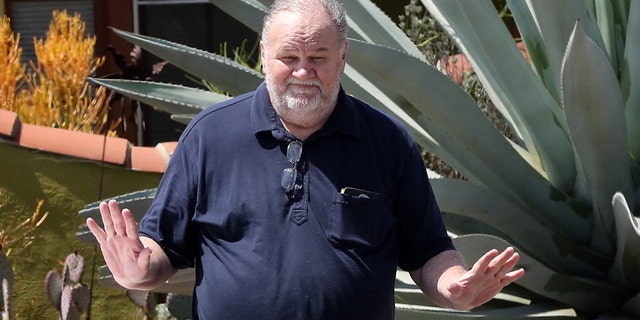 The arrest adds to the brewing family drama the Duchess of Sussex has been dealing with in recent months. Meghan's father, Thomas Markle, recently claimed he was being shunned by the royal family because of the staged paparazzi photo scandal days before Meghan and Prince Harry's wedding in May.
MEGHAN MARKLE'S DAD BELIEVES HIS DAUGHTER IS 'TERRIFIED' ADJUSTING TO NEW LIFE, CALLS ROYAL FAMILY 'OUTDATED'
Thomas Markle also said he believes his daughter is "terrified" adjusting to her new royal life.
Meghan's half-sister Samantha Markle also had some scathing words for the new duchess. Samantha Markle lashed out at her sibling for her "cold" behavior toward her father and said that if their father died, it was on her.
"How about you pay tribute to your own father?!" Markle wrote in one tweet. "Enough is enough. Act like a humanitarian, act like a woman. If our father dies, it's on you Meg!"