Meghan Markle, Prince Harry 'delighted' to have star's parents at wedding; confirm father will walk 'Suits' star down the aisle
After much speculation over Meghan Markle's family's role in her upcoming nuptials to Prince Harry, royal officials confirmed Friday that both of the "Suits" star's parents will be in attendance.
Harry's press secretary Jason Knauf said Friday that Thomas Markle and Doria Ragland will arrive during the week before the Saturday wedding so they will have time to meet Harry's family.
"The first thing I would like to share is that Prince Harry and Ms. Markle are very much looking forward to welcoming Ms. Markle's parents to Windsor for the wedding," Knauf announced in a statement.
He then went on to discuss Markle's parents' roles in the wedding which have been the talk of tabloid fodder for months.
"Both of the bride's parents will have important roles in the wedding," Knauf said. "On the morning of the wedding, Ms. Ragland will travel with Ms. Markle by car to Windsor Castle. Mr. Markle will walk his daughter down the aisle of St George's Chapel."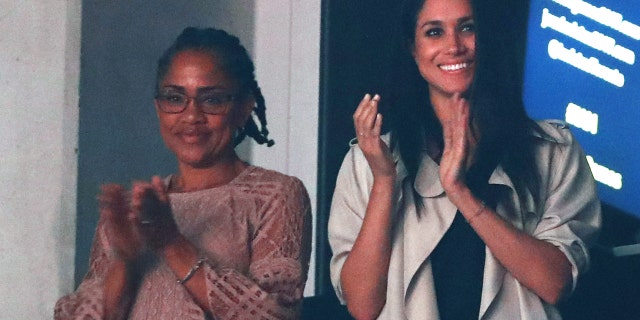 He added that Markle "is delighted to have her parents by her side on this important and happy occasion."
Knauf also said Markle's parents, who are divorced, will visit with the queen and her husband Prince Philip, with Harry's dad Prince Charles and his wife Camilla, and with his brother Prince William and his sister-in-law Kate.
The news comes just days after Markle's half-brother Thomas Markle Jr. shared a handwritten letter to In Touch slamming her for not getting an invite to the wedding. He warned the 33-year-old royal that "it's not too late" to stop the wedding.
The 51-year-old insisted the 36-year-old American actress is a "jaded, shallow, conceited woman that will make a joke of you and the royal family heritage."
Thomas went on to claim that their father is still struggling financially after he allegedly went into debt to support Markle's dreams of becoming a sought-after actress. He also claimed the patriarch wasn't invited to the wedding.
"What kind of person starts out by using her own father until he's bankrupt, then forgets about him in Mexico leaving him broke, over mostly all her debts," he claimed. "And when it's time to pay him back she forgets her own father like she never knew him.
"It's very apparent that her tiny bit of Hollywood fame has gone to her head," he wrote. "Not to mention, to top it all off, she doesn't invite her own family and instead invites complete strangers to the wedding. Who does that? You and the royal family should put an end to this fake fairytale wedding before it's too late."
Markle's half-sister Samantha Grant also sounded off on Twitter on May 19 and accused Harry of excluding several family members from the upcoming wedding.
"It's time to 'man up' @HRHHenryWindsor," she tweeted. "'Shout outs' about humanitarianism, don't work when you are allowing Meg to ignore the Markles. It is contradiction. Someone must point out that the 'Emperor is not wearing any clothes'".
Back in January, Grant told Fox News her brother has been speaking to the media without the family's consent.
"My brother is out there acting like he's the spokesman of the family," she said. "He is estranged from my dad because he sold my dad out to photographers from my uncle's house and tried to get my fragile uncle to talk.
"He gave up my dad's whereabouts. In other words, all those rumors out there started by my brother. He claimed he would walk Meg down the aisle. That's more malarkey than I could even imagine to articulate."
Grant also denied a report made by People magazine claiming her younger sister had no contact with her and hasn't for more than a decade.
"We spoke in 2014," she explained. "That doesn't make us estranged by a decade… When you got someone in the family who is family, just because they jet-set and have a busy, distracting life, it doesn't mean anyone in the family is estranged… Our families have always been very much in touch. And certainly growing up, we were very close.
"I don't think speaking with my sister last in 2014 and her saying, 'I love you babe, let's keep in touch' makes us estranged. I think that makes her busy. There are geographical differences between us. It became difficult."
The Associated Press contributed to this report.