Meghan Markle needs 'a steadying hand' from Queen Elizabeth to navigate royal life, source claims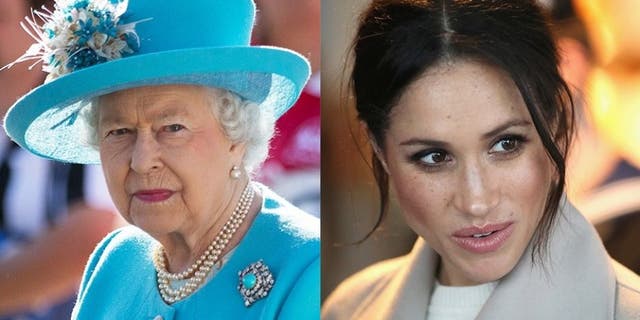 NEWYou can now listen to Fox News articles!
Meghan Markle is gearing up to attend three engagements as the Duchess of Sussex alongside Queen Elizabeth II — and she's getting plenty of help from the royal matriarch herself.
Royal expert Ingrid Seward, who recently published a biography on the queen and Prince Philip titled "My Husband & I," told People magazine Wednesday the 92-year-old is determined to show the new American royal and former actress how to navigate royal life like a pro.
"The queen knows the potential pitfalls of not giving [new members] a guiding hand," explained Seward. "It's all about the monarchy. She can't expect Meghan to know everything without being shown.
"She doesn't want 70 years of hard work to be for nothing. I'm sure she feels Meghan needs a steadying hand in these early days."
The royal family confirmed Tuesday Markle, who is 36, will accompany Queen Elizabeth to attend royal engagements in Cheshire, England.
The pair will open the Mersey Gateway Bridge at Catalyst Science Discovery Center, which aims to provide hands-on science to people of all ages.
The duo will also inaugurate the Storyhouse Theater, which will serve as a local library and cinema. Then the women will attend a lunch at the Chester Town Hall.
The queen and her granddaughter-in-law will meet local school children, watch a few moments of a theater production and participate in a brief walkabout.
"It is the way of the royal family — all part of the training and getting used to being in public life under public scrutiny," Queen Elizabeth's former press secretary told the magazine. "Showing people the ropes is a high priority for the queen."
The news of the upcoming engagements for the queen and the duchess came two weeks after Markle and Prince Harry married at St. George's Chapel in Windsor Castle.
Robert Lacey, a historical consultant for Netflix's "The Crown," added it must have been the queen's decision to ensure Markle was by her side.
"The initiative must have come from the queen," he explained. "It's not something Meghan or Harry would have asked for. It's an exciting move. Perhaps only now do we realize that it has been one of Elizabeth's skills to modernize the monarchy without appearing overtly to be doing so — and this is the latest sign of it."
Princess Diana's biographer Andrew Morton, who recently published a book on Markle, told Fox News in April that Harry was initially hands-on in prepping his then-fiancee for her meeting with the queen during afternoon tea.
However, it was something else that won the elderly monarch over.
"The royal family is very used to people being very nervous in their presence and coming out with the most nonsensical things," he said. "I remember bishops had curtsied to the queen, rather than bow. All kinds of things go on. So Harry told Meghan to be yourself and be relaxed. And the fact the corgis liked her was a plus in her favor.
"[The queen] gave her grandson permission to marry Meghan Markle, the first biracial, divorced, American actress… She must have been impressed. If she hadn't been, she would have said no. And she has in the past."