Meghan Markle and Prince Harry super-fans camp out on the streets ahead of the royal wedding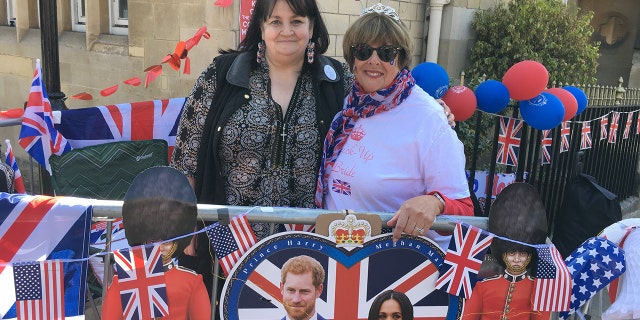 WINDSOR, England – With two days to go until the royal wedding, the streets outside of Windsor Castle are packed with people who have camped out, sleeping on the sidewalk to secure the best possible viewing spot on Prince Harry and Meghan Markle's big day.
Nearest an entrance of St. George's Chapel, where the wedding will take place on Saturday, Donna Werner, of Connecticut, and Faith Nicholson, of London, have set up shop. They've been sleeping outside of the castle since Wednesday night and have supplies with them to stay through the end of the festivities on Saturday, they said.
The women have flags, balloons, posters and even earrings that bear the U.K. flag decorating their space on the sidewalk behind a metal barricade. Their decorations include a poster Werner made that reads "Ms. Markle makes Harry's eyes sparkle."
"We met at William and Kate's wedding, and we said when Harry got married we were coming back, and here we are," said Werner, 66, speaking of Nicholson.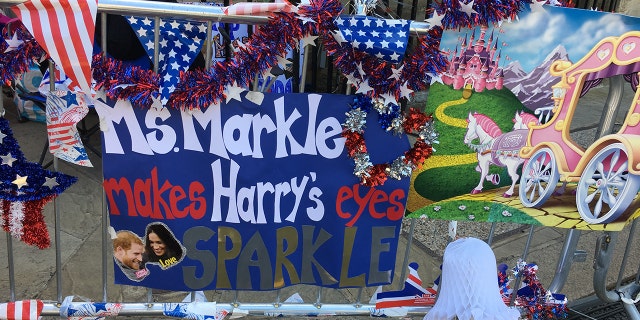 "We have air mattresses; we have sleeping bags; we have tarps; we have hand warmers, coats and socks and gloves and scarves and hats. I think we're set," she told Fox News.
Werner said she wanted to travel to the U.K. for the wedding because it's "just a big love fest."
"Everybody is happy. I mean, you're not here for a sad occasion. You're not here for a demonstration. You're just here to show your love."
Nicholson, 56, said she wished the friends could have a better view of the wedding from their perch on the street. Nicholson also attended Princess Diana's wedding to Prince Charles, and said she is somewhat "disappointed" that Prince Harry's wedding is a smaller affair compared to royal weddings that have preceded it.
"When Donna and I met at Westminster, we had a beautiful view. We got really good photographs, but I think that we've got the best spot, and we'll still get good photographs."
Also camped out is Bernadette Christie, 64, of Canada, who settled in her spot near the castle on Wednesday "to get a front row seat."
"I was frozen last night. It was horrible," she said of her experience Wednesday night. "It was 46 [degrees F]. That's cold. I didn't really warm up."
Christie has previously traveled to the U.K. to camp out for other royal events such as William and Kate's wedding and for the Queen's Jubilee.
EVERYTHING YOU NEED TO KNOW ABOUT THE ROYALS
Set up next to her is a fellow Canadian, Ivanka Siolkowsky, who worked as an extra on "Suits." She said she met Markle during production and had a scene dancing at the actress' TV wedding. Siolkowsky's Instagram account includes photos of her as an extra on various shows filmed in Toronto.
"In the final scene, you can see me dancing right beside her," she said. "And a few days later was when they announced the engagement. So we filmed that, they took all our phones and everything, there were police on set, and I thought 'this was not normal,' and sure enough it was because of [the engagement]."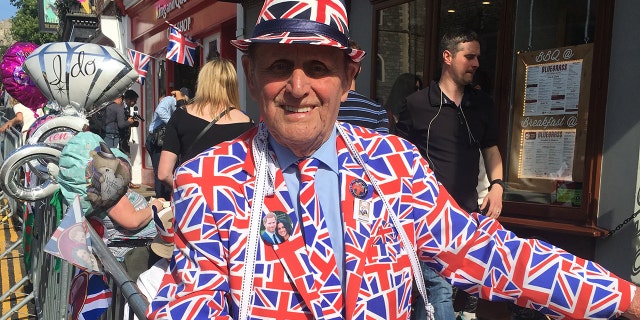 Around the corner stands Terry Hutt, an 83-year-old who is dressed from head-to-toe in a suit that features the U.K. flag. He's paired the suit with a matching hat and a pin that features the soon-to-be-married couple.
"I camp out here like the rest of them," he told Fox News. "We lay on the ground. We've got our knapsacks, and we all look out for each other."
He said he's confident the royal family enjoys seeing people like him dedicated to celebrating them.
"The royal family does like what I do," he said with a smile. "They like flags; they like [the] people, and that's what this is all about."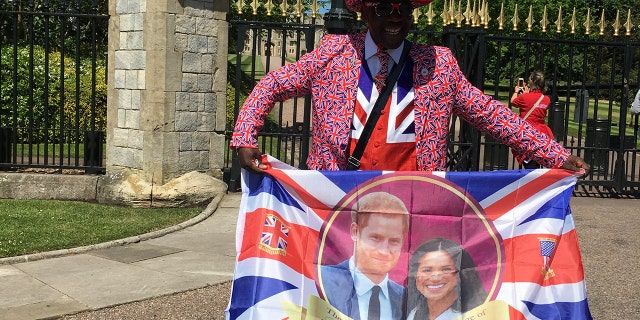 Joseph Afrane, meanwhile, is walking around the tourist-filled area also in head-to-toe U.K. flag clothes but he isn't sleeping on the streets. The Londoner said his goal is to spread joy and pose for pictures. He plans to wear attention-grabbing outfits each day leading up to the royal wedding and walk around the streets interacting with others there to celebrate the occasion.
"You see, everybody is happy. The royal family, they bring togetherness into the U.K. as well as the whole world," he said. "We need to support them, as I am doing."
Duncan Sandys, Winston Churchill's great-grandson and the former Lord Mayor of Westminster, said the public simply loves royal celebrations.
"We love royal weddings," he told Fox News. "But, you know, it's different. It's very, very unlikely – would be tragic – if Prince Harry were to become king because he is now sixth in line for the throne – that would mean his brother and the entirety of [William's family] would have to predecease him.
"When Prince William got married, the person he was marrying will one day be queen. That's not the case for Prince Harry."
But Sandys quickly clarified, "That doesn't lessen the excitement."
"I think that the royal family has a very special place in British people's hearts, the queen in particular and Prince William and Prince Harry have really sort of captured the, you know, mood of the British people and they are very, very widely liked and respected. I think that it shows with all the excitement."
Sandys, 44, said he thinks Harry and Markle's wedding is particularly thrilling for the public because Markle is American, divorced and biracial. He said the wedding is showing the royal family, which has been led by Queen Elizabeth for more than 65 years, can change with the times.
"One of the reasons why the royal family has survived in the hearts of the British people for so long is they have modernized and moved with the times. I think people want to see, at the end of the day… them happy just as they want to be happy themselves. I think when you look at the pictures, film and everything of Prince Harry and Meghan Markle, what you see is what is replicated millions of times every year around the world: two people falling in love," he said.
Hutt, who is British and has been married for more than 50 years, said this wedding holds a special place in his heart.
"This one is a different one. If Diana was here now she'd really be proud of her children. The difference is Harry and Meghan have actually met each other without permission and they decided they were going to get married. That doesn't normally happen, not for royal people," he said. "It's true love."