Media playing along as liberals weaponize Gold Star families in fight against GOP
As many Democrats weaponize Gold Star families against the GOP, mainstream media outlets now seem to be approaching the families of dead soldiers one by one in an attempt to find the next controversy surrounding President Trump.
Earlier this week, Trump said former President Obama and past presidents didn't always call the families of soldiers who died while serving the country during a Rose Garden press conference.
"The traditional way, if you look at President Obama and other presidents, most of them didn't make calls, a lot of them didn't make calls," Trump said. "I like to call when it's appropriate."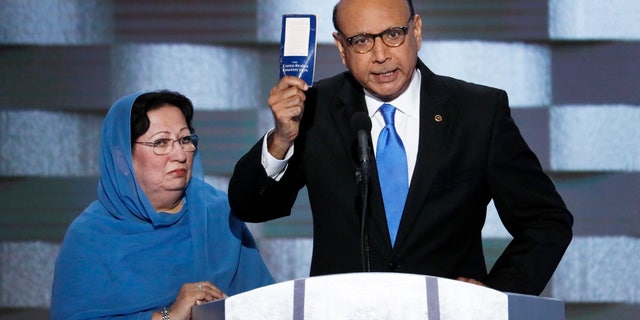 These comments by Trump lit a fire under Democrats, both in the media and in Washington.
Gold Star widows and parents were all over the place on Wednesday, from CNN to The New York Times, mostly to criticize Trump. The Washington Post successfully found a Gold Star father who alleged that Trump didn't come through on a $25,000 promise, while The Associated Press even tweeted a glorified classified ad with the hope of locating more Gold Star families willing to chat.
"Are you a member of a Gold Star family who's had contact with the White House? Confidentially share your story here," the AP tweeted.
A former Reuters contributor commented that the AP's tweet "seems outside the scope" of journalism.
Rep. Frederica Wilson, D-Fla., took it to a new level by criticizing what she claimed Trump recently said on a call to a fallen soldier's widow. Trump fired back, tweeting that the congresswoman "totally fabricated what I said to the wife of a soldier who died in action (and I have proof). Sad!"
The situation has received so much attention that White House Press Secretary Sarah Sanders was forced to address it during Wednesday's press briefing.
"I think it's appalling what the congresswoman has done and the way she's politicized this issue and the way that she's trying to make this about something that it isn't," she said.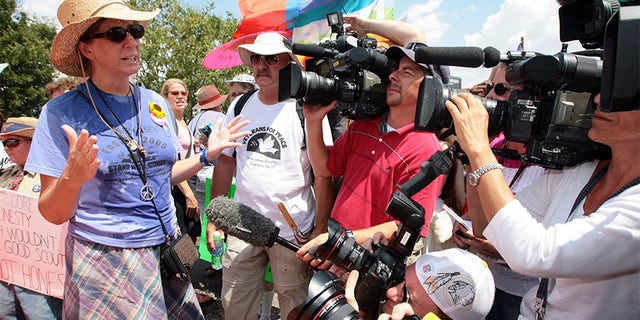 Sanders criticized the media and the way the situation has been handled, and that was before The Associated Press started soliciting grief-stricken families.
"I think it frankly is a disgrace of the media to try to portray an act of kindness like that and that gesture and to try to make it into something that it isn't," Sanders said.
Back in 2005, Cindy Sheehan protested the Iraq war outside of President George W. Bush's Texas ranch after her son, Spc. Casey Sheehan, died while serving in Iraq. She picked up a ton of media attention in the process, and Democrats must have taken notice.
Over a decade later, a different Gold Star family, Khizr and Ghazala Khan, were given an opportunity to speak at the 2016 Democratic National Convention.
Their son, Capt. Humayun Khan, was killed in 2004 during the Iraq war. But the Pakistani-American Khans were there to trash then-candidate Trump as much as they were on hand to honor their son, according to some supporters of the president.
"Donald Trump, you're asking Americans to trust you with their future. Let me ask you, have you even read the United States Constitution? I will gladly lend you my copy," Khizr Khan said as he waived a copy of the Constitution.
The Khans were back in the news on Tuesday, mocking Trump in a statement to The Hill.
Trump's "selfish and divisive actions have undermined the dignity of the high office of the presidency," they said in a statement.
The families of fallen soldiers now are used as political ammunition and, sadly, there seems to be no end in sight in the current media landscape.