Matthew McConaughey: My pal Lance Armstrong 'not a liar'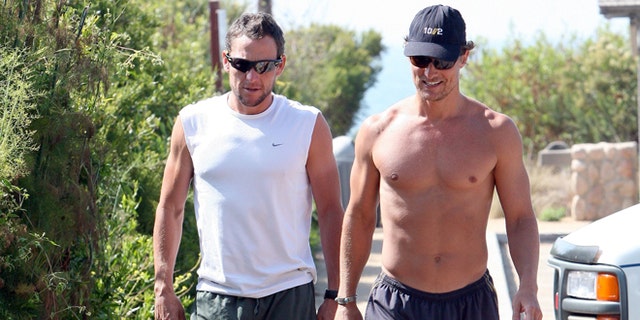 Matthew McConaughey and Lance Armstrong were once good pals.

The two were often spotted jogging together or partying out in Austin.

And Armstong's recent confession that he used performance-enhancing drugs to win the Tour de France impacted the Hollywood actor on a personal level.
PHOTOS: Male athletes turned models

"He told a lie, he's not a liar… When it came out, I took it personally, but then I realized it ain't personal to him," he told Details magazine. "I was going, 'That son of a bitch!' but then I thought, 'Well, what was he supposed to do? Call me to the side and go, Hey, I did this?'"

The actor added that he thinks Armstrong did the right thing by coming clean.

"…I'm happy for him now, because despite all this outside conflict, he doesn't have this inner conflict anymore."

MORE: McConaughey shows off major weight loss

In any case, the actor doesn't really have much time for his friends these days. McConaughey said he is more of a family man these days.

"I do have less time for friends now…my close friends have had to come to understand that I can't just throw on a backpack and say, 'We'll be back in four days,'" he said.

And work has been busy too. He says wife Camila Alves pushes him to work hard.

"I've got a wife who challenges me. There were two movies I wanted to do last year, but they were back-to-back with no separation. She was like, 'You want to do it… make it happen. We'll be there with you.'"

Click here to read more of McConaughey's interview from Details.