Martin Sheen admits he felt 'powerless' watching son Charlie's meltdown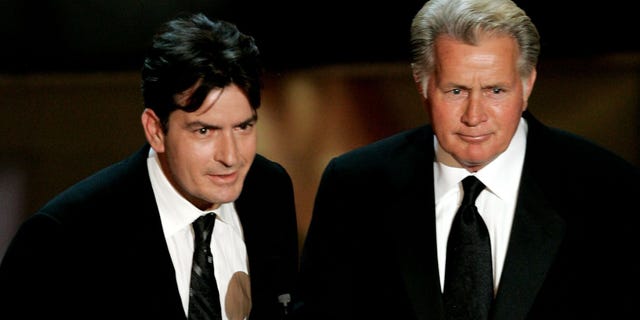 NEWYou can now listen to Fox News articles!
Charlie Sheen's very public meltdown in 2011 was not only hard for his diehard fans to watch, but also difficult for those closest to him.
Martin Sheen, Charlie's father, revealed to Radio Times that he felt "powerless" as he watched his son get fired from the hit sitcom, "Two and a Half Men," before embarking on a bizarre and disastrous nationwide stand-up tour titled "My Violent Torpedo of Truth/Defeat Is Not an Option."
"What he was going through at that time, we were powerless to do much. Except to pray for him and lift him up," said Martin Sheen, 74, adding that he never saw his son perform his live act. "You try to be present as possible, but you have to be aware of the circumstances. You have to be aware of many things that the public is not aware of."
The actor, who is best known for playing President Josiah Bartlet on "The West Wing" as well as roles in films like "Apocalypse Now" and "The Departed," said his son was in "a very desperate situation" during that time, struggling with addiction, and felt that the only way to get himself out of it was "going public."
"And it was very painful. No less painful for him," Martin Sheen said.
The elder Sheen, who struggled with addiction in the 1970s and has been sober almost 30 years, said going to programs like Alcoholics Anonymous helped him learn how to support his son better.
"You can assure them you're there and you love them, but you cannot effect change," he said. "You pray for a moment of clarity, you trust in a high power and you never, never give up hope. Because that is a measure of despair."
Sheen also opened up about working with his son on FX's "Anger Management," which received less-than-thrilling reviews.
"I was delighted to work with Charlie – I adore him, and he asked me to do it," he said. "But we all knew that it was pulled together very quickly to get Charlie [involved] rather than to have a more interesting theme. It was too surface."
Like us on Facebook
Follow us on Twitter & Instagram