Marsha Blackburn up 14 percent despite Taylor Swift's plea for opponent Phil Bredesen in Tennessee race
NEWYou can now listen to Fox News articles!
Taylor Swift's "End Game" may be to keep Marsha Blackburn from being elected to the Senate, but Tennessee voters appear to be shaking off the pop star's endorsement of her opponent.
On Sunday, Swift urged her 112 million Instagram followers to register to vote and cast their ballot for Blackburn's opponent, former governor Phil Bredesen. After her post, voter registration in Tennessee went up to 65,000 registrations in a 24-hour period. However, a new New York Times poll on Friday shows Blackburn is ahead of Bredesen by 14 points.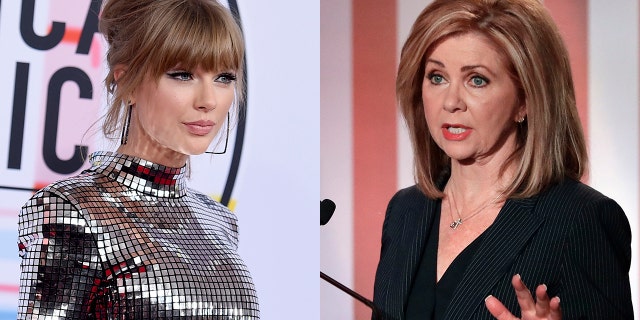 Swift wrote to her followers, "As much as I have in the past and would like to continue voting for women in office, I cannot support Marsha Blackburn. Her voting record in Congress appalls and terrifies me."
Swift said the congresswoman "voted against equal pay for women. She voted against the Reauthorization of the Violence Against Women Act, which attempts to protect women from domestic violence, stalking, and date rape. She believes businesses have a right to refuse service to gay couples. She also believes they should not have the right to marry."
TAYLOR SWIFT BASHES BLACKBURN IN FAVOR OF TENNESSEE DEMS, BREAKING POLITICAL SILENCE
"These are not MY Tennessee values," the "Fearless" singer said online.
Swift wrote she will be voting for Bredesen for the Senate, and also for Rep. Jim Cooper, a Democrat who's running for re-election.
Blackburn told Fox Business' Connell McShane on Wednesday she believed her constituents would not be swayed by the celebrity.
"Tennesseans are more interested in the fact that Marsha Blackburn is endorsed by the U.S. Chamber of Commerce, by the Fraternal Order of Police, by the Police Benevolent Association and by the National Rifle Association, where I have an 'A' rating and their endorsement," Blackburn said.
In 2016, Blackburn won her House re-election race, defeating Democrat Tharon Chandler. She represented Tennessee's 7th congressional district. Blackburn received more than 72 percent of the vote, The New York Times reported. Blackburn is running to replace Republican Sen. Bob Corker's seat. Corker announced last year that he will be retiring from the Senate. Bredesen is running against Blackburn.
Following Swift's endorsements, President Trump told reporters on Monday that he likes her music "about 25 percent less."
"I'm sure Taylor Swift has nothing or doesn't know anything about her," Trump said of the 28-year-old singer. "Let's say that I like Taylor's music about 25 percent less now, OK?"
Fox News' Kathleen Joyce and Nicole Darrah contributed to this report.