Marisa Miller on Gaining Weight and Hiding Her Curves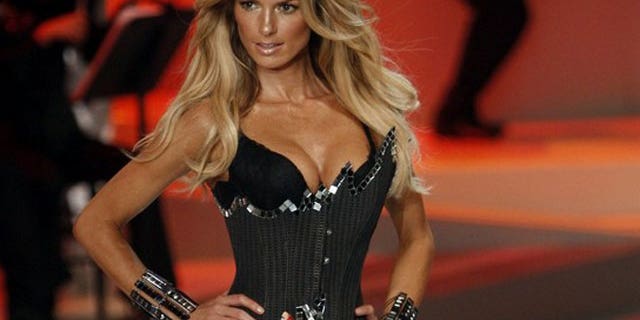 LOS ANGELES – When it comes to a flawless figure, Marisa Miller comes pretty close – however the Victoria's Secret super model insisted that she's had to work her booty off big-time to get back in bikini shape since getting married to Hollywood producer Griffin Guess just over three years ago.
"I put on a lot of weight after getting married. My husband is really tall and skinny and can eat whatever he wants," she told Tarts at a recent Victoria's Secret event poolside at Westwood's W Hotel. "Of course I thought I could eat whatever I want to, but no, it doesn't work like that."
So how did Ms. Miller drop those post-nuptial pounds to grace the cover to Sports Illustrated last year and be named number one on Maxim's 2008 "Hot 100"?
"Luckily I have a lot of motivation with my job, its important to do something everyday. Every time you can you should do something because it's really hard to get into summer and then play a whole bunch of catch-ups. I travel with resistance bands, I box a lot, I spin and I surf – I try to mix it up and make it fun so my body doesn't get bored," she said. "But it is good to keep the curves, it's not about being super skinny."
But believe it or not, when Miller first started out in the modeling industry, those killer curves were actually a disadvantage (she said the stylists would tape down her bountiful breasts for photo shoots) and it's taken a long time for the blonde bombshell to overcome her insecurity issues and embrace her God-given body.
"Growing up I was incredibly shy, I was such a tomboy. I was always wearing baggy pants and big t-shirts. I was really, really self-conscious of my body," the 31-year-old added. "So a lot has changed for me personally and Victoria's Secret has really helped with that. We all have things we're self-conscious about, I'm not the tallest model in the world and when I started having curves it was really hard for me."