Mariah Carey latest pop diva to find home in Las Vegas, confirms residency at Caesars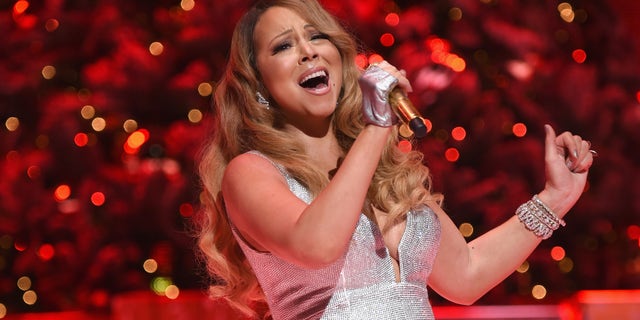 It's official. Mariah Carey is heading to Sin City.
The "Obsessed" singer confirmed her residency at Caesars Palace in Las Vegas during a Thursday appearance on "The Ellen DeGeneres Show."
"I'm going to do my first ever residency in Vegas at Caesars. This is a special event for me," a teary Carey, 44, announced. "And again, I have to hope that the fans will enjoy this 'cause I'm gonna be performing, which was kind of inspired by my album 'Number 1's,' and this is not the updated version with 18 of them. Hopefully other people will enjoy this. I've never done this before."
She added, "It's a new chapter for me, and I'm so excited."
The show, dubbed "Mariah Carey #1's," will feature the singer performing her 18 No. 1 singles, which include "We Belong Together," ''Hero" and "Vision of Love." She is one of the all-time best-selling acts in music.
Carey's announcement came after a so-so year for the multi-platinum, Grammy-winning star. Her latest album, "Me. I Am Mariah... The Elusive Chanteuse," was a commercial flop, and she was criticized for her vocal performances during her recent tour.
In going Vegas, Carey, a judge on "American Idol" for one season and the mother of 3-year-old twins, is following in the steps of Britney Spears, Celine Dion and Shania Twain, who have all had extended residencies there.
Carey will be filling in the spot vacated by Dion, who has taken a leave from her show there to take care of her ailing husband, René Angélil.
The Caesars subsidiary that owns and manages most of its casino-hotels, including the one in Las Vegas, filed for Chapter 11 bankruptcy on Thursday. The company's CEO said in a statement that its lineup of entertainers would continue to perform as scheduled and that customers should expect no interruption.
Only 18 shows dates have been announced so far, nine in May and nine in June. Tickets are on sale already, ranging from $55 to $250.
Carey will also release a new edition of "#1's," her 1998 compilation album, this year. It will include some new music.
The Associated Press contributed to this report.
Like us on Facebook
Follow us on Twitter & Instagram