Madonna gives profanity-laced speech at Women's March in Washington
Madonna is very angry about the election of President Trump, and she let the crowd at the Women's March in Washington know it without holding back during a profanity-laced speech.
"I have thought an awful lot about blowing up the White House," the 58-year-old pop star said, before adding that she "knows this won't change anything."
Later, she dropped an f-bomb and used another vulgarity to give some advice to President Trump.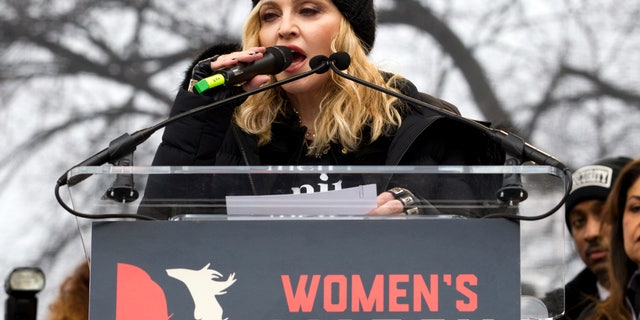 "It seems as though we had all slipped into a false sense of comfort, that justice would prevail and that good would win in the end," the award-winning singer said.
"Well, good did not win this election. But good will win in the end," Madonna said.
Later, she performed two of her hits, "Express Yourself" and "Human Nature." During the latter, she led the crowd in a chant of "I'M NOT YOUR BITCH!"
A range of other performers and activists, including singers Alicia Keyes and Janelle Monae, trans advocate and writer Janet Mock,and filmmaker Michael Moore, also appeared onstage.