Macy's Thanksgiving Day Parade kicks off holidays with 'On Your Feet!', Prince Royce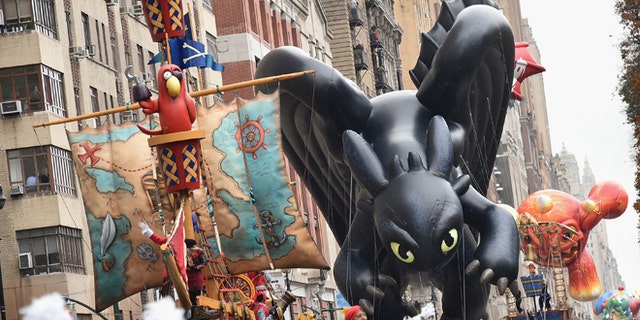 New York – The countdown is on for America's largest and most beloved parade, the Macy's Thanksgiving Day parade, which this year will be spiced up by some serious Latin beats.
Marching bands and dance troupes from all over the country will be joined by some of the biggest names in music and the hottest Broadway shows – including a number from the acclaimed new musical "On Your Feet!" that tells the success story of Cuban-American "sound machine" couple Gloria and Emilio Estefan.
"We are going to be opening the Thanksgiving Day Parade which is like bucket list item No. 1," actress Ana Villafañe, who plays the lead role, told Fox News Latino. "I'm still that girl who puts on Christmas pajamas that watches the whole parade start-to-finish and I'm 26," she said on the opening night a few weeks ago.
The "On Your Feet!" number will be followed by fellow Broadway hits "Finding Neverland," "The King and I," "Fiddler on the Roof."
"Something Rotten" and "School of Rock" will have their own float.
School marching bands and colorful dance troupes are also central in this New York City fiesta that for many means the official kickoff of the holiday season.
All the way from La Puente, California, the marching band from Nogales High School will be keeping the beat down Manhattan's main avenues for the second time. They are among the 10 marching bands chosen out of 175 applicants, and the only school representing the West Coast.
"It's the talented students, their incredible love for entertaining and playing their instruments and just having a lot of fun," band director Brad Pollock told KTLA earlier this month. "We got in the second time in eight years. These kids are amazing."
Patty Villalobos, a booster for the school, praised the music program at Nogales, saying Pollock is "awesome" and that students are moving on to be successful young adults.
Singers Mariah Carey, Sofia Carson, Prince Royce, Andy Grammer, Daughtry, Train, Jordin Sparks, and Shawn Mendes are just some of the A-list stars taking the stage – or, rather, a float – to perform hit singles.
"I can't stop smiling and have serious butterflies in my stomach," Carson tweeted on Tuesday from rehearsal. She will be joined by her "Descendants" co-star Dove Cameron.

The 89th Annual Macy's Thanksgiving Day Parade will air live on NBC on Thursday.