Luke Bryan calls Dustin Lynch introduction 'absurd,' says it was 'complete sarcasm'
County music star Luke Bryan shared an apology to Dustin Lynch and fans on Instagram
Luke Bryan clarified his "absurd" introduction of Dustin Lynch was just "sarcasm" and part of his humor.
Bryan introduced Lynch while the two were performing at the Crash My Playa festival in Cancun, Mexico, from Jan. 19 to 22.
"No one has drank more liquor, no one has vomited more, no one has taken more drugs, no one has taken more IVs, no one has passed – no one has passed more STD tests than this next gentleman… he's got a clean bill, he does not have diseases," the musician said before Lynch took the stage.
Bryan took to Instagram on Wednesday to clarify that the introduction was "complete sarcasm."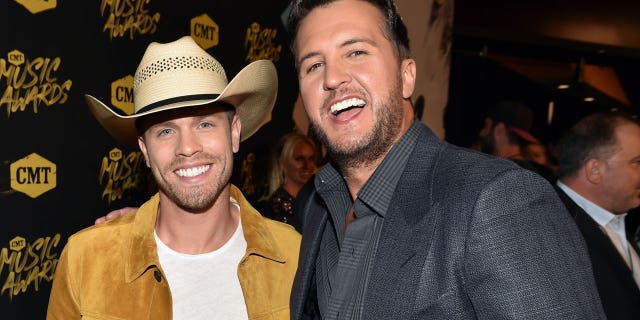 LUKE BRYAN RESPONDS TO CRITICISM AFTER GOV. RON DESANTIS APPEARS AT CONCERT
"Just saw where people are starting to chat about my introduction of Dustin Lynch. Dustin Lynch is one of my dearest friends on the planet. No one respects him more than I do."
He later added: "Those words that I used were so absurd, I figured everybody would take it as sarcasm. Obviously some people didn't. I spoke to Dustin. I love him. He and I are all good. And I apologize to anybody that doesn't understand my humor."
The county music star ended his apology by encouraging his followers to go listen to Lynch's new single.
Lynch re-shared the video to his own Instagram, confirming the two had talked it out.
CLICK HERE TO SIGN UP FOR THE ENTERTAINMENT NEWSLETTER
"Thx for the call, love ya bro," he wrote. "All good. We had a lot of fun down there again with the pirates."
Bryan and Lynch performed together during the Crash My Playa festival. The two hopped on-stage and sang a rendition of Dan + Shay's "Tequila."
Other country music stars present at the festival included Thomas Rhett, Jake Owens, Luke Combs and Lauren Alaina.
Bryan is set to begin his Sunset Repeat Tour on May 31 in Philadelphia. He will be joined by Cole Swindell and Jon Langston for performances throughout the schedule.