Lin-Manuel Miranda, Other Broadway Composers Campaign Against Sheet Music Piracy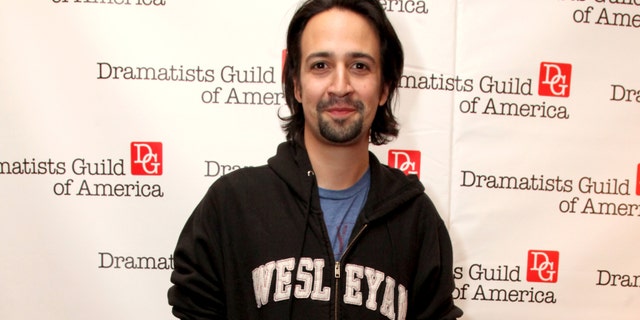 Some young musical theater fans have received an email from various Broadway composers asking them to stop illegally downloading sheet music for any of songs in their shows.
Lin-Manuel Miranda, the award-winning composer of the Tony hit "In the Heights," along with other musical theater composers want people to realize that it's stealing. He said he feels most of the people downloading sheet music are unaware of the impact on the artist.
"Musical theater artists, we thrive on productions and we thrive on sheet music. That's our bread and butter," he said Monday at an anti-piracy awareness event hosted by the Dramatists Guild. "We're not ranking iTunes artists. We create for live productions, so we suffer more than most in this era where you can download anything."
Stephen Schwartz, composer of the Broadway show, "Wicked," said a person would not walk into a music store and walk out with a piece of music under their arm. So the online equivalent should not be acceptable.
"I just went to the first of the Web sites that I'm going to be emailing, and I typed my name in to see how many individual pieces of sheet music of mine were available for free – over 11,000," he said. "I didn't know I had that many pieces of music."
The Dramatists Guild event proved to be a summit of musical theater composers that also included Amanda Green, Stephen Flaherty, Marc Shaiman, Scott Wittman and others. Many of them sat in a room across the hall from the organization's headquarters hunched over computers, writing letters to offenders as a projection screen showed the organization's Twitter activity.
The idea of reaching out to sheet music pirates began a few years ago, when composer aand Guild member Georgia Stitt found out during a talk with students that sheet music created by her husband – "Bridges of Madison County" composer Jason Robert Brown – was getting downloaded.
Brown began the letter-writing campaign to ask people downloading the music to stop.
"About three or four years ago," Brown said, "when Georgia had told me about it and I got on the Internet, I saw a whole list, about three or four hundred people pirating my sheet music that day, and I said 'I'm just going to write them.'"
While that doesn't entirely solve the problem, Brown feels getting an email from a Broadway composer carries a fair amount of clout.
"If Stephen Sondheim had written to me when I was 20 years old, when I was 16 years old, I would have had an aneurysm," Brown said. "It's more of a reason to take somebody seriously. You're not going to listen to your mother about it or your teachers, but maybe you'll listen to someone that you respect when they say to you, 'This hurts me.'"
Dramatists Guild committee chair, Craig Carnelia, is leading the fight in shutting down Web sites that provide downloads of sheet music, as well as bringing awareness to the problem.
"There are more songs being stolen than being sold... There are people who believe that intellectual property should belong to everyone, but for the most part, it's people who don't really understand that by doing this, they're taking from the very people they revere and damaging the business they hope to become a part of," Carnelia said.
The Anti-Piracy Committee was founded in 2010. Since then, it has produced numerous resources for writers, as well as "Someone Wrote That Song," a musical public-service announcement with music by Alan Menken and lyrics by Carnelia.
The committee has not assigned a dollar value to the sheet music downloaded without license, but well-known composers have tens of thousands of pieces of music available online. Carnelia said he's seen thousands of pieces of his material being offered for free.
"On one site, there are some composers like Sondheim that have 30,000 being offered," Carnelia said.
Sheet music generally sells for $5 to $10 a song. But some sell for as low as 99 cents.
"Hands on a Hardbody" lyricist and composer Amanda Green understands why young people want to get their hands on some music and may not care about licenses and fees. But she feels it's important to let them know of that it hurts the composer's livelihood.
"I think it's about changing people's mindset." Green said.
She added: "The more attention that's paid, and the more we refuse to be quiet about it, the more impact we can have."
Based on reporting by the Associated Press.
Follow us on twitter.com/foxnewslatino
Like us at facebook.com/foxnewslatino