Lily Allen claims she walked in on James Blunt having sex in her hotel room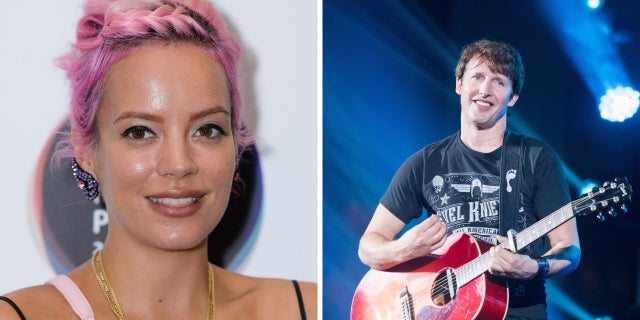 Singer Lily Allen claimed she once walked in on fellow crooner James Blunt having sex with someone in her hotel room.
Allen, 33, revealed the awkward alleged encounter when she was asked about shameless things she had witnessed during an interview with Yahoo 7 Be.
"I once walked in on somebody having sex with James Blunt in the foyer of my hotel room at Chateau Marmont," she said.
"Not that it's shameful to have sex with James Blunt," she clarified. "It was just that it happened to be happening in the foyer of my hotel room."
CARRIE UNDERWOOD SAYS SHE WANTS MORE FEMALE REPRESENTATION ON COUNTRY RADIO
The "Smile" singer did not say when the accidental encounter with the "You're Beautiful" crooner occurred. Blunt has been married since 2014 to his wife Sofia Wellesley.
Blunt has not immediately commented on Allen's claim.
The revelation comes days after Allen said she had sex with female escorts during a dark period of her life.
BUCK OWENS' GIRLFRIEND RECALLS 'SLOW AND GRADUAL' ROMANCE, SINGER'S NEED FOR PRAYER, BOOK CLAIMS
"Sooo, in my book 'My Thoughts Exactly' (out on 20th Sept) I detail some stuff from my dark days, around the 'Sheezus' era," Allen wrote on Instagram on Saturday.
"I slept with female escorts when I was on tour, cause I was lost and lonely and looking for something. I'm not proud, but I'm not ashamed. I don't do it anymore," Allen continued, adding: "The Mail are gonna run with the story tomorrow cause someone leaked it, and they're bound to make sound worse than it was. Just wanted to give you Er, the 'heads up'!" she concluded.