Lesbian romance 'Blue is the Warmest Color' wins top prize at Cannes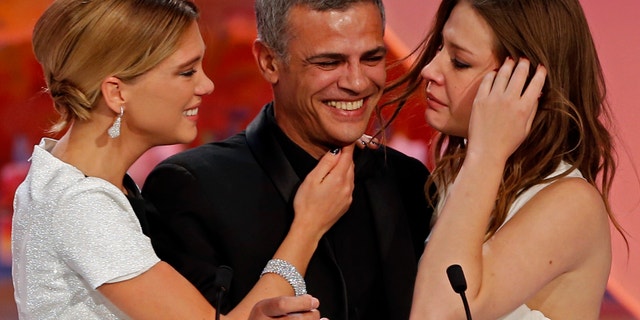 CANNES, France – Abdellatif Kechiche's lesbian romance "Blue Is the Warmest Color: The Life of Adele" has won the Palme d'Or, the top honor of the Cannes Film Festival.
The jury, headed by Steven Spielberg, took the unusual move of awarding the Palme not just to Kechiche, but also to the film's two stars: Adele Exarchopoulos and Lea Seydoux. The three clutched each other as they accepted the award, one of cinema's greatest honors.
Exarchopoulos stars in the film as a 15-year-old girl whose life is changed when she falls in love with an older woman, played by Seydoux.
Best acting honors at Cannes went to Bruce Dern for Alexander Payne's "Nebraska" and Berenic Bejo for Asghar Farhadi's "The Past."