LeAnn Rimes reconnects with estranged father, Eddie fails at cowboy duties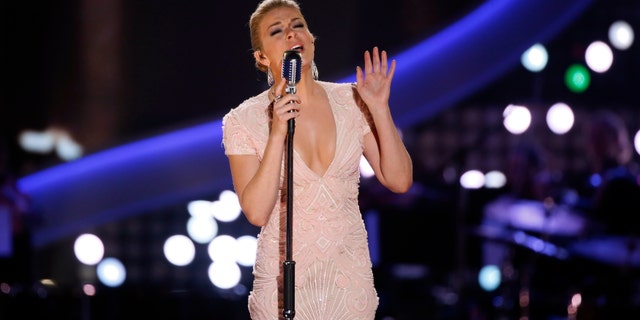 Forget about the endless parade of bikinis, the Twitter wars, the tabloid scandals: On the third episode of VH1's "semi-scripted" reality series, "LeAnn & Eddie," Ms. Rimes reminded everyone why she became famous in the first place– her soulful voice.
At the Grand Ole Opry in Nashville, Tennessee, LeAnn belted out a well-received set to a sold-out house -- an audience which included her formerly estranged father. "I think there's always a little bit of anxiety when my dad's around, because, you know, I want to be the best that I can be. I want to make him a proud dad."
Before Eddie and LeAnn arrived at her father's ranch in Lebanon, she admitted that she was a bit nervous about spending time with her father. "My relationship with my dad has had its moments," LeAnn explained.
That's putting it mildly.
Back in 2000, LeAnn sued her father and her former co-manager, alleging that they had swindled approximately $8 million dollars from her. The lawsuit was eventually settled and LeAnn, and her father reconciled before her wedding to Eddie.
"It took us a while to kind of get back to where we are now and it amazes me because a lot of people don't come back from having that kind of falling out," LeAnn noted.
While LeAnn was in Nashville giving interviews at CMT, Eddie failed miserably at trying to impress his father-in-law with his skeet shooting. Even LeAnn's 11-year-old nephew Cameron was underwhelmed with Eddie's (lack of) skills. "This is how it's done," he chided, easily picking off target after target. "This isn't the movies."
Eddie's attempt at roping wasn't much better. "Yee-haw," he said weakly, missing the roping dummy by a wide birth. LeAnn, who had just finished up her interviews in Nashville, was able to sling the lasso like a pro.
"Roping that thing on the first try is not making me look and better in front of your dad," complained Eddie. "Well, that's not a my problem. That's a you problem," LeAnn retorted. "And plus, I still have to show my dad that I've got it."
The next night, Eddie and LeAnn joined her family on the porch, where her father strummed guitar. "I remember the first time we played the Opry," LeAnn's father reminisced. "What was the first song you taught me," asked LeAnn. "Jesus Loves Me," said her father quietly. "You sang it every where we we went." The father and daughter then sang the hymn together.
"It's been years since I was able to do that with my father," LeAnn said later. "I think it means more than we know to both of us to us to have this moment."