Leah Remini claims Tom Cruise personally doled out punishment to fellow Scientologists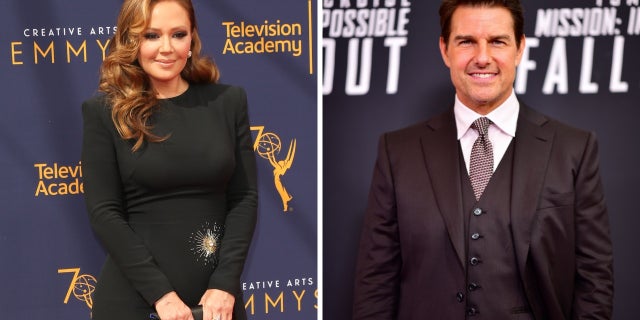 Leah Remini claimed Tom Cruise was aware of the abuses that occured inside the Church of Scientology, going as far to say that he's "been part of it."
Remini, 48, told The Daily Beast that Cruise, one of the church's highest ranking members, received special treatment by Scientologists. The "King of Queens" star was a member of the church but left in 2013. She is now an outspoken opponent of Scientology and spoke about it with other former members in her Emmy Award-winning series "Scientology and the Aftermath."
"Scientologists are told that Tom Cruise is saving the world single-handedly, so he is considered a deity within Scientology. He is second to David Miscavige— the savior of the free world. Tom is even called 'Mister Cruise' by staff members," she told the Beast.
TOM CRUISE PREFERS STAYING SINGLE, REMAINING CLOSE WITH SCIENTOLOGY PALS, REPORT SAYS
The "Kevin Can Wait" star also claimed Scientologists make sure Cruise does not see materials with "anything disparaging about Scientology."
"They'll go so far as, if he's going to walk a certain place, they'll make sure there are no magazines that are anti-Scientology, so he can't see that," she said.
Remini explained she believed others thought Cruise was "an innocent victim in all of this" but said the "Mission Impossible" actor is very much aware of what goes on inside the church.
"Where Tom is concerned, that is very different," she said. "He is very aware of the abuses that go on in Scientology. He's been part of it."
NICOLE KIDMAN RECALLS MOVING TO U.S. AFTER FALLING IN LOVE WITH TOM CRUISE: 'I ALWAYS MAKE CHOICES FOR LOVE'
Remini attributed Cruise's status and knowledge of abuse in the church to his close relationship with Miscavige. She said the "Top Gun" star is "not in the same category as the average Scientologist."
She also claimed an official inside the church told her Miscavige ordered Cruise to dole out punishment on a high-ranking member.
"The Church rejects all of Leah Remini's allegations as false," the church said in a statement provided to Fox News. "The interview is a PR stunt to promote her fake reality TV show. As long as the entertainment media will print Leah Remini's lies, her anti-religious bigotry will have a voice. Her brand of hate has dire consequences. Just last week, for example, the FBI released a report showing the alarming increase of hate crimes in the United States, including 1 in 5 traced to religious bigotry. Remini has gone out of her way to manufacture hate and instigate harm toward innocent people."
Cruise, meantime, has come under fire before for his association with the controversial religion. In the 2015 documentary "Going Clear: Scientology and the Prison of Belief," former members claimed they were asked to help "facilitate" the breakup between him and Nicole Kidman, who was not a Scientologist.