Tom Cruise prefers staying single, remaining close with Scientology pals, report says
There is only one thing Tom Cruise wants to do at age 56 — entertain audiences on the big screen.
The Hollywood actor is currently starring in "Mission: Impossible — Fallout," where he famously performed his own stunts, including jumping 25,000 feet from a plane for the action franchise.
"I wanted to make movies since I was 4 years old," Cruise told People Magazine Wednesday for their cover story. "To be able to entertain an audience, that was my dream."
However, fans are intrigued by another side of Cruise. While most celebrities in Hollywood bare all on social media, Cruise has fiercely protected his personal life, especially after his 2012 divorce from actress Katie Holmes.
And even his co-stars have taken note.
"He's a mysterious figure in many ways," said actor Simon Pegg, who worked alongside Cruise in "Fallout."
"People speculate about him and decide the truth about him," added the 48-year-old. "He doesn't really do anything. He steps back from all that."
The magazine said Cruise has stayed busy during the last several years working on movie sets and living in hotel rooms. While the star has reportedly gone on dates, he hasn't been in a serious relationship for "the longest time in his adult life."
But Cruise is in love — with London. Since he made "Legend" there in 1984, Cruise has been frequently spotted in the city whenever possible. His 25-year-old daughter Isabella, whom he adopted with then-wife Nicole Kidman sometime in the '90s, also lives in London with her husband.
In fact, Cruise reportedly no longer calls Hollywood home. People Magazine added he sold his Los Angeles property in 2015, including his massive Beverly Hills compound, for $39 million. He did buy a penthouse apartment in Clearwater, Florida, which is located just a block from the Church of Scientology's international headquarters.
Cruise, who has been a devoted member of the controversial church since the '80s, is reportedly close friends with its leader David Miscavige. Locals claimed they've spotted Cruise in the area with Scientology staffers. His 23-year-old adopted son Conner has also reportedly moved to Clearwater.
"He's very relaxed when he's here," said a source.
In March, Miscavige's wife, first lady of Scientology Shelly Miscavige, was the subject of a Vanity Fair documentary titled "Vanity Fair Confidential: Scientology's Vanished Queen."
The show, which was a part of the "Vanity Fair Confidential" series, was based on the March 2014 expose by the magazine that questioned what happened to Shelly, who allegedly disappeared in 2007.
Many fans have also wondered if Cruise has any relationship with his youngest daughter, 12-year-old Suri, whom he shares with Holmes.
The preteen lives with her mom, former star of TV drama "Dawson's Creek," in Los Angeles and New York City.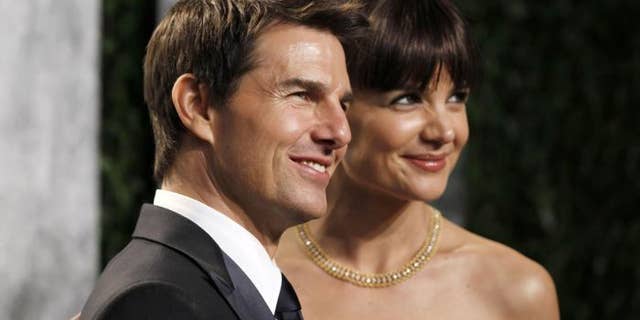 "He loves all of his children," claimed a source. "And each of them has a right to their own story."
But rather than discussing his personal life publicly, Cruise wants audiences to focus his work instead.
"I like to learn new things and push the skills I have to the next level," said Cruise. "I don't do anything halfway as a person."
Back in March, Cruise announced on "The Graham Norton Show" that he was still recovering from a broken ankle he suffered six months ago on the "Mission Impossible" set.
"It's not fully healed but we are shooting and we have a release date so I just have to keep going," he explained. "I spent 8-10 hours a day, seven days a week in rehab because we still have some major stunts to do… but I'm doing well."