Latino Fashion Designers Vie For Spot on Oscar Night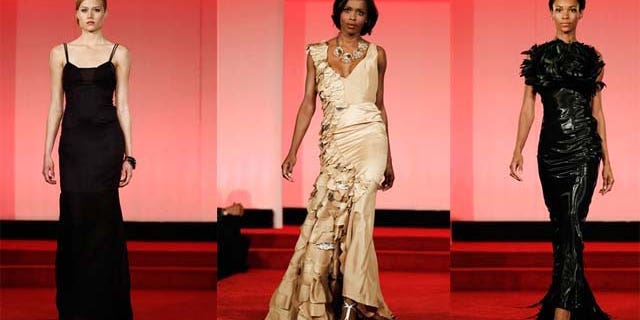 Body skimming, liquid metal flowed down the red carpet in Beverly Hills this week.
The floor length black gown trailing emerald green feather, just oozing old Hollywood glamour!
Exactly what James de Colón had in mind.
The designer of Puerto Rican descent is one of a handful of Latino names in this year's Oscars Designer Challenge, where nine emerging fashion designers battled it out for a chance to have one of their original gowns worn by a trophy model during the Oscars.
"Its such an honor," de Colón, the distinguished looking New York native, says. "Not too many Latinos are invited."
Nearby, a hip looking, cap wearing, Octavio Carlín agrees. This Mexican designer's silk chiffon entry for the Challenge, going a completely different route than de Colón's.
The sleek, draped, body-hugging gown with a flowing skirt is pure motion, especially on someone who "knows how to work it," as Carlín puts it.
The shade of plum is meant to match Oscar gold. And the silhouette? Carlín explains it's shaped with none other than Oscar winner Nicole Kidman in mind!
You never know. Last year's finalist, Oday Shakar ended up with his black, backless Oscar Challenge entry dress hugging Sandra Bullock's curves at the 2010 MTV Movie awards.
Carlín's already had a taste of fame in Los Angeles, with a boutique in the trendy Los Feliz neighborhood with Paris Hilton and Sharon Stone, among the rumored clients.
De Colón is known for a successful boutique in Puerto Rico, but now has a private studio in Chicago. As he explains it, he was lured by the Magnificent Mile and the thriving theater district.
Makes sense: The former set and costume designer remembers seeing his first fashion show, when he was just 14 years old.
"Even then" he says, "I envisioned myself as the Fred Astaire of fashion design with Ginger Rogers as my muse."
The public can view and vote for the Oscar Designer Challenge 2011 at the official website for the academy awards, Oscar.com. The winning design will be announced during Oscar Red Carpet Live on February 27th.
And of course, aside from having the winning design worn in the live telecast, the winning designer will receive two tickets to attend the Oscars ceremony!
Buena suerte!
Christina González is a reporter for KTTV Los Angeles FOX 11.
To see more of her work and Oscar night coverage visit myfoxla.com
Follow us on twitter.com/foxnewslatino
Like us at facebook.com/foxnewslatino