'Last Jedi' premieres in LA amid tight security
A procession of Stormtroopers and a squad of red-armored elite guards marched on the red carpet Saturday night for the Los Angeles premiere of "Star Wars: The Last Jedi."
But it was everyday police and security personnel who made sure that stars and fans alike stayed safe.
Cars entering a parking garage near the Shrine Auditorium in downtown Los Angeles passed through two checkpoints in order to get in, Deadline.com reported. One checkpoint used bomb-sniffing dogs while the other checked vehicles using mirrors, the report said.
Outside the theater "Star Wars" music blared and fans cheered in anticipation of the world premiere of latest installment in the beloved space opera franchise.
The film will open in theaters nationwide on Friday. The cast includes Daisy Ridley, Mark Hamill, John Boyega, Adam Driver, Oscar Isaac, Kelly Marie Tran, Laura Dern and Benicio del Toro.
The late Carrie Fisher, who played Princess Leia in the original "Star Wars" films, also makes an appearance. Fisher died last December at age 60.
The director is Rian Johnson, known for "The Brothers Bloom" (2008) and for several episodes of AMC's "Breaking Bad."
There was concern earlier Saturday that Boyega would miss the L.A. premiere because of travel problems in Atlanta, but he later tweeted that he arrived safely in California – without his luggage.
Boyega arrived on the red carpet, wearing a dark blue tuxedo and turtleneck.
For the L.A. premiere, many fans waving stuffed Porgs, a new character being introduced in "Last Jedi," the eighth film in the core "Star Wars" franchise.
Ridley, who plays Rey, arrived at the premiere wearing a shimmering dress adorned with stars, while newcomer Tran wore a bright red dress with a lengthy train.
"It's a 'Star Wars' movie, and the energy tonight is pretty amazing," said a beaming Andy Serkis, who plays the villain Supreme Leader Snoke.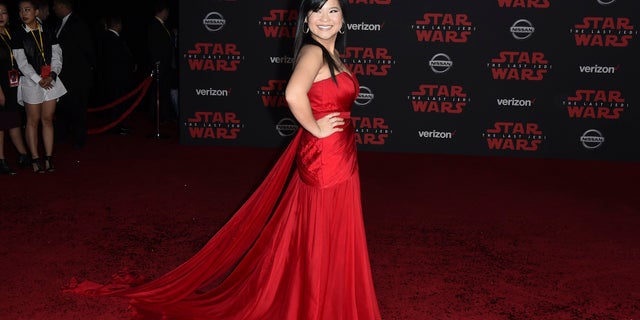 Secrecy about the film, which had been screened only for select VIPs prior to Saturday's premiere, was still in place. Anthony Daniels, who plays C-3PO, told a reporter looking for details on the film, "I'm going to let you work out everything for yourself."
"The Last Jedi," is one of the year's most anticipated releases. Early box office projections are for the film to debut in the $200 million range for its first weekend.
The Associated Press contributed to this story.