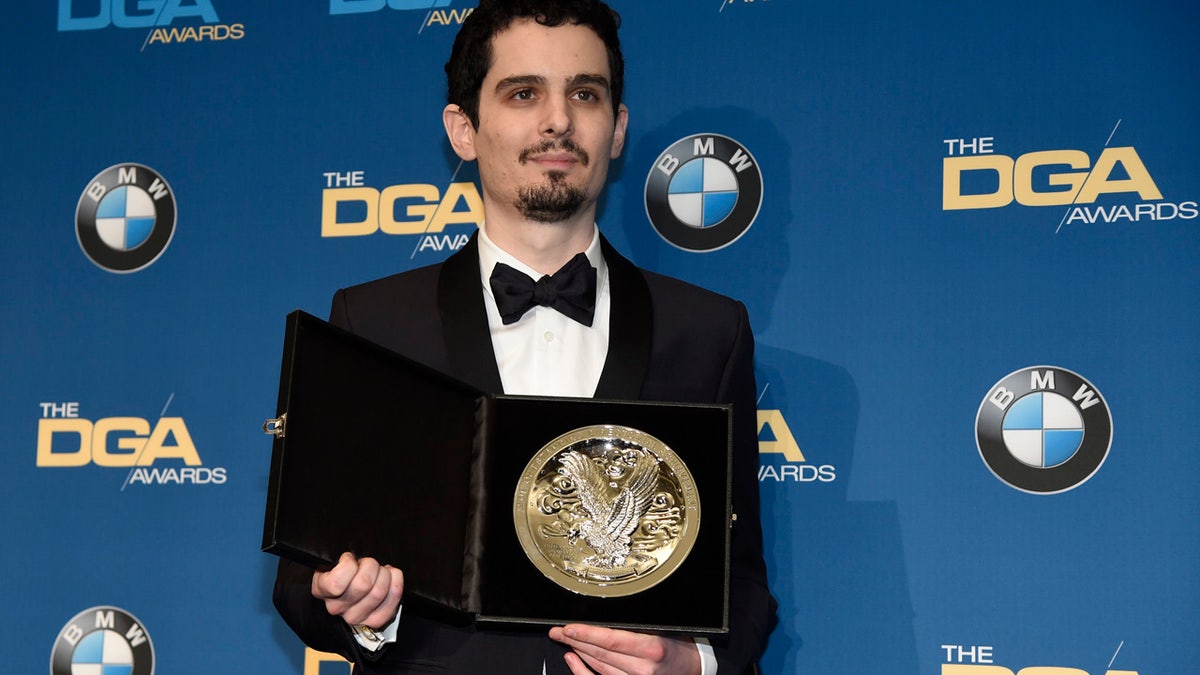 BEVERLY HILLS, Calif. – "La La Land" director Damien Chazelle waltzed off with the top honor at the Directors Guild of America Awards, Saturday. It's the latest stop on the ebullient musical's journey to the Oscars, but it wasn't all song and dance at the annual awards ceremony in Beverly Hills. The evening also took on a more somber, urgent note as many directors and presenters also grappled with President Donald Trump's refugee and immigration ban.
"I wanted to celebrate the act of dreaming and what art means. Art does connect people and transcend borders," Chazelle said. "I want to be part of that transnational dialogue of movies."
At 32-years-old, Chazelle, a first-time nominee, is the youngest ever recipient of the DGA feature film award which all but guarantees an eventual Oscar win on Feb. 26.
Rarely has the DGA winner not gone on to win the directing prize at the Academy Awards. "La La Land" recently won the top honor at the Producers Guild Awards and is nominated for a record-tying 14 Oscars.
Earlier in the evening "La La Land" stars Emma Stone and Ryan Gosling presented Chazelle with the directing medallion. While singing his accolades, like the fact that he shot the musical in 40 days using 35mm film, 93 locations and 1600 extras, Gosling also joked that Chazelle "directed his own birth in a single take."
Chazelle was up against Barry Jenkins for "Moonlight," Kenneth Lonergan for "Manchester by the Sea," Garth Davis for "Lion," and Denis Villeneuve for "Arrival." All but Davis are also nominated for the Oscar.
Davis did win the first time director award for "Lion," however. Starring Dev Patel and newcomer Sunny Pawar, "Lion" tells the true story of an Indian man who was lost as a 5-year-old and 25 years later used Google Earth to retrace his steps to his hometown and his birthmother, not knowing the name of either.
"I had the first half of the film relying on a 5-year-old child who did not speak English," Davis said. "This movie demanded that the whole cast and crew make this film from their hearts."
Nate Parker was also nominated for the first time feature award for "The Birth of a Nation" — the only major awards recognition for his film.
The Directors Guild also recognizes excellence in directing in documentaries, live, scripted and reality television and commercials. Ezra Edelman won the documentary award for "O.J.: Made in America" which he called a "labor of labor."
Other winners included Steven Zaillian for "The Night Of," Tina Mabry for "An American Girl Story — Melody 1963: Love Has to Win," Miguel Sapochnik for "Game of Thrones" and Becky Martin for "Veep."
Sir Ridley Scott was also given the 35th Directors Guild Lifetime Achievement Award, presented by Christopher Nolan, Billy Crudup and Michael Fassbender.
Fassbender described Scott as, "direct, generous, loyal, competitive ... and a bit of a loner who prefers the company of dogs to most people."
Beyond the self-congratulatory air typical of a Hollywood awards season event, many were compelled to address the refugee and immigration ban as it relates to the entertainment industry and the art it creates.
Davis said he's spoken to "a lot of refugees who have said that this film has given them the courage to find their families."
Chazelle praised Iranian filmmaker Asghar Farhadi, an Oscar-nominee for his film "The Salesman" who said he will not attend this year's Academy Awards because of a travel ban imposed by Trump.
Farhadi, Chazelle said, "comes from a country my government tells me I shouldn't be in dialogue with."
Chazelle said that the business of excluding filmmakers or voices is "inherently anti-art."
Alejandro Inarritu, the Mexican director who won last year for "The Revenant," called the current political story "a bad remake of one of the worst stories of the last century."
"The only way we win is by telling good, complex and truthful human stories," Inarritu said. "No alternative facts or false statistics will defeat that."
So prevalent were politics throughout the evening that even the absence of a political statement required acknowledgement.
Ridley Scott said, "I'm not going to talk about politics because there have been a lot of references to politics tonight and I'm best off not talking about it."
But for the most part, directors were eager to condemn the ban. Falling in line with statements from the Academy of Motion Picture Arts and Sciences and the Writers Guild of America, DGA President Paris Barclay said that "transcending borders is kind of what we live for." The DGA, he noted, was founded by immigrants and said that even Billy Wilder was a refugee.
"The DGA will always be a home for all directors," Barclay said.