Kiefer Sutherland hopes 'Designated Survivor' can make America less politically divisive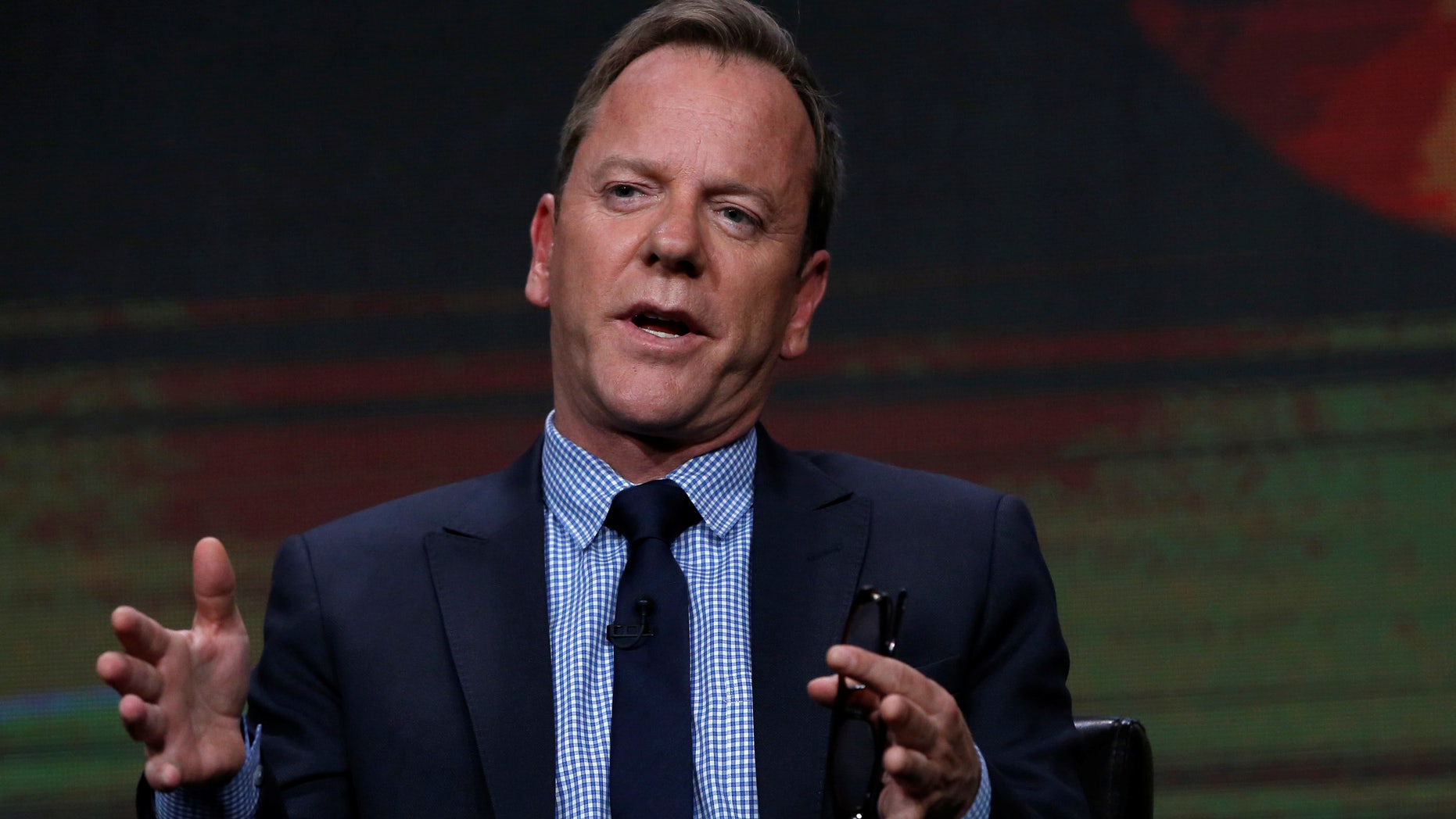 LOS ANGELES – In a political season that has seen non-stop controversy on the part of both Republicans and Democrats and a hunger by American voters for outsider candidates, ABC is introducing "Designated Survivor," starring Kiefer Sutherland. It's the story of a low-ranking cabinet member who becomes president of the United States by an act of terrorism rather than through the election process.
"What I hope this show manages to achieve is that we have a less divisive conversation about what's really important," Sutherland told reporters at the Television Critics Association summer press tour in Beverly Hills. "I think anybody who's watched this last election cycle, it has become like a name-calling, children's spat. I don't see a lot of interest in discussion."
"Designated Survivor" is going to combine elements of "The West Wing" in having a thinking president; an aspect of "Homeland" as the investigation into the act of terrorism continues; and "House of Cards" as newly anointed President Tom Kirkland (Sutherland) learns the business of government and deals with relevant issues.
"It has the thriller aspect and family drama as it looks at what happens when overnight you go from a very structured life to being the most powerful man, and it also allowed itself the format to discuss politics that we need to have in a rational way," Sutherland says.
Despite its violent beginning, "Designated Survivor" is not going to be a brutal show, like Sutherland's previous TV entry "24." Rather, he hints it will not go where everybody expects.
As a Canadian, Sutherland has never thought about what it would be like to hold the most powerful office in the world. He can't even vote in the election. But, as an actor, he was intrigued by playing someone who has that much power.
"It is an incredible responsibility to be the president, but every situation can be dealt with, with common sense and patience, so I love breaking that job down," Sutherland said. "Instead of making it political, Kirkland is someone approaching it with common sense. He is not looking at it from a political angle but the human point of view. He has a strong sensibility about what he believes is right and wrong."
Not many Americans are aware, but the designated survivor is a real thing. It is normally a cabinet member who is held a remote location when the president and other high-ranking government officials are all in one location. No one yet has taken office that way. The nearest comparison is Gerald Ford, who assumed the presidency when Richard Nixon resigned. And like Ford, the most difficult dilemma for Kirkland is to convince the country, who doesn't know who he is, that he is the man for the job.
"FDR [Franklin Delano Roosevelt] is where I want him to get to, because he approached things in a very human way," he says. "I don't think Kirkland is that politically savvy. One interesting thing is when he makes an attempt to be political; he might not do it well at first. Washington slowly gets put back together and what he has to do gets more complicated. In the back of my head when I read the script, FDR was the first president I thought of, but there will be twists and turns along the way to get to that spot."
As for the new "24," which doesn't feature Jack Bauer, Sutherland says, "My responsibilities to '24' other than being incredibly grateful as a person for my experience on it, but for this new show, the first few scripts are really, really solid. I think they've cast them cleverly. [Executive producer] Howard Gordon let me know what they were doing as a courtesy, but they didn't need to. I told him that the direction they were heading was really exciting."
"Designated Survivor" premieres September 21 on ABC.