Kensington Palace releases details, sketches of Meghan Markle's wedding dress
NEWYou can now listen to Fox News articles!
As the world still reels from the elegant royal wedding, Kensington Palace has released concept sketches and a slew of details about Meghan Markle's elaborate dress from the big day.
As the couple begins their new life together, fans of all things royal wedding can continue to whet their appetite for all things royal wedding by exploring the below sketches of her opulent dress that billions of people saw during the ceremony.
The palace noted that the Duchess of Sussex's dress was designed by Clare Waight Keller after Markle personally selected her for her "timeless and elegant aesthetic, impeccable tailoring and relaxed demeanour."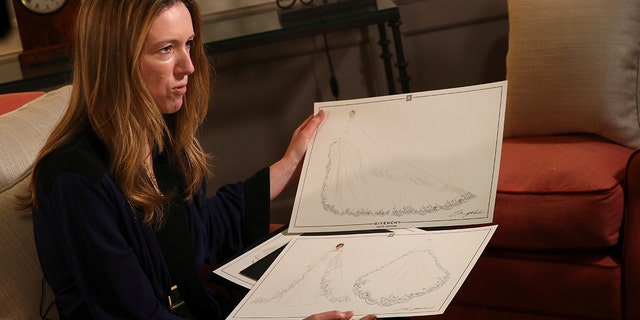 The sketches mostly detail the dress and its long trail.
"True to the heritage of the house, the pure lines of the dress are achieved using six meticulously placed seams. The focus of the dress is the graphic open bateau neckline that gracefully frames the shoulders and emphasises the slender sculpted waist," a release from Kensington Palace reads. "The lines of the dress extend towards the back where the train flows in soft round folds cushioned by an underskirt in triple silk organza. The slim three-quarter sleeves add a note of refined modernity."
However, perhaps the most work went into Markle's veil, which she reportedly insisted should incorporate all 53 countries of the Commonwealth so she could represent them at the royal occasion. The veil represents the distinctive flora of each Commonwealth country by meticulously weaving their designs into the fabric.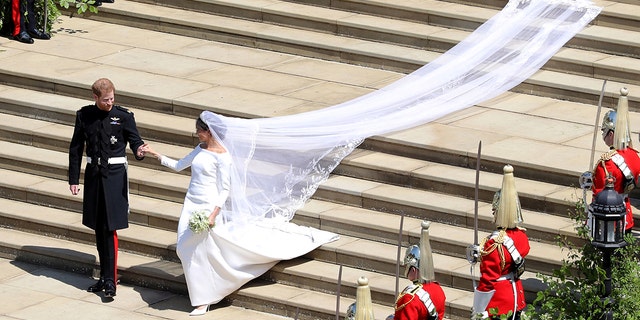 She reportedly asked for two of her favorite flowers to be included in the veil as well to show off her two sides. The first was Wintersweet, which reportedly grows on the grounds of Kensington Palace as well as the California Poppy, her home state's signature flower.
The entire wedding look was seen by the 600 guests in attendance at St. George's Chapel as well as by the 100,000 people who came out to watch them during their procession through Windsor. An estimated 2 billion people saw the dress by way of the televised ceremony as well.