Kenny Rogers talks superstardom, losing it all, and even sex scandals in new book 'Luck or Something Like It'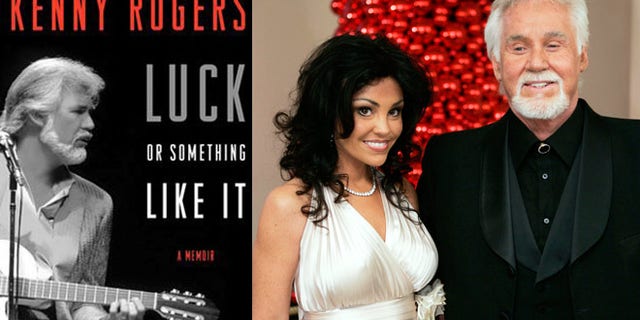 Country music legend Kenny Rogers tells the story about his life and career in "Luck or Something Like It."
The 74-year-old singer has had an incredible career, selling over 125 million albums, having one of the top rated TV movies of all time ('The Gambler') and the number one selling duet of all time with Dolly Parton ('Islands in the Stream').
The book details Rogers' personal life including his rough childhood in the Houston projects, his five marriages, friendships with Lionel Richie, Dolly Parton ... and even a sex scandal!
FOX411: Tell us how you chose a music career.
Kenny Rogers: My mom told me when I was very young, 'Find a job you love and you'll never work a day in your life,' and that just sounded too good to be true. So I set out on this musical journey. I've been lucky in my life. That's what I wanted to tell people to pursue their dreams. Kids ask me all the time about the music business and I say, 'If you're doing this for the money, don't do it because you won't last long enough to get the big money, but if you're doing this because this is your calling, then even when you're down you're happy. You're doing something you love.'
[pullquote]
FOX411: You first became successful not as a country singer but as a member of First Edition.
KR: Country music was my first love. My mother listened to it. That's what I was raised on. But I had this opportunity to go into jazz. I was there for ten years. We were very successful and very good. It wasn't so much a matter of what I was singing but that I was able to make a living singing, that's what excited me.
FOX411: In your late 30's your career was at a standstill and you were broke.
KR: I was broke in my 50's! This is a business where you stay broke.
FOX411: Wait a second, in your 50's you'd already made some major money.
KR: Yeah but you can spend major money too! It's one of the downfalls of the business. I had nothing as a child. I kind of blew it out as an adult. When I was a kid growing up in the projects I walked to school through a very wealthy neighborhood and everybody had automatic sprinklers and I thought, 'That is so cool. Someday I want to have automatic sprinklers.' So when I got a lot of money the first thing I did was get automatic sprinklers on a 1,200 acre property. I would drive around on my golf cart watching the sprinklers go off. I loved that!
FOX411: The first time you had sex you got the girl pregnant, and then you got married.
KR: You know what? I loved her. At 19 I thought, 'This is ok with me.' That was a thing where her parents thought I'd ruined her life and were determined to break me. It didn't work, and it's really sad because I think it could have worked. You can't say I'm afraid of commitment. I've been married five times!
FOX411: Do you have any contact with your daughter?
KR: I don't, but that was my promise to them, that I would be her father but he (his ex-wife's second husband) would be her Dad, and I don't want to disrupt that. He stepped in at a time that was really awkward for all of us and he became her Dad, and I love him for that. He was a good guy.
FOX411: What do you love about country music?
KR: Country music to me is the white man's rhythm and blues. It's where the pain is. The great thing about country music is that once you listen to it you can't go back to another genre because it's so pure and honest. Country fans are true, true fans.
FOX411: And you had a sex scandal! (Three women filed lawsuits that he had coaxed them into playing kinky phone-sex games).
KR: Well you've got to have one in your life! I thought that (phone sex) was the safest sex there was, only to get hammered by it. Here I was, it's between friends. We can't be together, so let's talk about it. It was great, it was exciting, it was fun. If I'd fought the lawsuit I could have won that battle. It was a phone number they had to call and pick up the message. They didn't have to call if they didn't want to, but they did and recorded it. I thought that it was going to cost me more to fight it then to pay itb so I paid it and left it alone. What hurt me the most was I thought they were friends.
FOX411: Tell us about Wanda, your current wife.
KR: She is truly my soul mate. She knows me better than anyone has ever known me before. We've been together for 20 years. We have identical twin boys who are eight years old. I have such great respect for her as a mother. She is the most phenomenal mother I have ever seen. The boys are so lucky to have her and so am I .
FOX411: There is a bit of an age gap between you.
KR: 28 years. Her parents are two years younger than me. They called me when we started dating and said, 'We want you to know we didn't appreciate what you're doing with our daughter,' and I said, 'First of all I don't blame you. I don't think I would either but I will make you a promise. I will never lie to her and I will never lie to you.' Now they're my best friends.
FOX411: You didn't write about it, but you've spoken before about your plastic surgery.
KR: Yeah I regret the results of the eye job but quite honestly I don't know what I'd look like if I hadn't done it and it may have been way worse. I actually had written a whole segment on it but the publishers said, 'Let's not do that, that's all people will talk about,' and this book is about my journey and my musical connections. It was a phase I went through. I improved myself. I didn't like the way he did my eyes but I see all these other guys who have had it done and theirs are worse than mine. I'm not going to complain anymore.
FOX411: You really have reinvented yourself throughout your career.
KR: I like trying new things because I figure if the old thing was so good, why am I no longer successful at it? When I stepped out of one box I stepped into another. No matter how big you are you end up with about seven years of real fame. If you don't see that, you're setting yourself up for emotional failure at the very least.