Kelsea Ballerini: Pop, country collaborations are good for country music
NEWYou can now listen to Fox News articles!
Kelsea Ballerini has every reason to let success inflate her ego, but she's not letting fame get to her head.
The Tennessee native already has a number of country music awards under her belt and has been dubbed "Country's It Girl" by Rolling Stone and was named Billboard's Women In Music's "Rising Star."
All of the praise has Ballerini on cloud nine but instead of focusing on the applause, she is diligently working on her sophomore album.
"[The attention] is honestly just encouraging and that makes me work really hard to hopefully prove them right," Ballerini told FOX411 Country. "Right now I'm making my second record and I'm pouring every ounce of creative energy into it and I want to make sure it's better than the first so may fans [and the industry] feel like I'm still giving them something that they want to play and want to put their name on. That's the most important."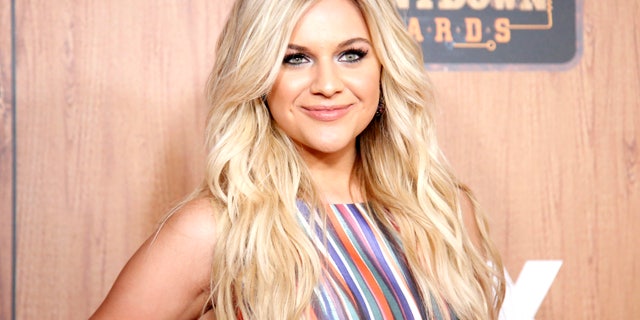 While Ballerini might be focused on what's next, her fans are not done listening to her debut album "The First Time." Her latest single "Peter Pan" was the most added song on country radio nationwide on its March release day. She also became the first solo female artist to top the Billboard Country Airplay chart in nearly three years since Carrie Underwood's "Blown Away." Despite complaints that female artists aren't getting enough country radio airtime, Ballerini is beating those odds.
"I think it's more just people saying women are not being played on the radio because right now there are a ton of us and it's awesome," she shared. "'Peter Pan' broke Top 30 and it's my favorite song on the record. And radio has been so good to me and good to [fellow female singers] Maren [Morris], Cam, Maddie and Tae."
The rising star, who wrote or co-wrote all 12 songs on "The First Time," recently performed "Peter Pan" on the ACM Awards in Las Vegas accompanied by fellow singer Nick Jonas, who messed up his guitar solo during the live show.
"Yeah, I mean I noticed but he's such a pro," the singer recalled. "But he just was so pro about it and he's so great and professional and talented so it was super, whatever."
Her collaboration with Jonas wasn't the first time the country star worked with an artist outside of her genre; Ballerini teamed up for a mashup of "Peter Pan" with pop star Daya.
"I think that every time a country artist steps outside of the country boundary, it just brings more ears to us. When Florida Georgia Line and Nelly put out the 'Cruise' remix, it brought so many more people to country music. Plus, I love pop music so anytime I get to collaborate I like to."
The "Love Me Like You Mean It" singer already has an in with the pop music world; she's lucky enough to call country singer turned pop star Taylor Swift a fan and a friend.
"She is my friend and I think the biggest advice that she has given me [was] early on in my radio tour, I was 19 and I was scared out of my mind," she said. "And I think I just tried to answer every question correctly and be what I thought I needed to be and she told me, 'Listen, it's going to feel like cool winds sometimes, but if you stay true to who you are and be yourself, people will gravitate towards that.'"
And so far that is what Ballerini has done and it's working. In addition to being a singer, the songstress considers herself a role model for young girls.
"I love that I have young fans and to me, being a role model doesn't mean being perfect," she shared. "It's being real and honest and I try to be very transparent with my fans. I want to make sure I'm the same person they see on stage, out at dinner and on Instagram."
One way the singer inspires is through her work with Mary Kay makeup for their Day of Beauty to help survivors of domestic abuse.
"You know, when I was making my record I just decided that I kind of wanted to be all about girls and just empowering each other to know our self-worth should be high and [what Mary Kay is doing] was so parallel with that."
Follow FOX411 Country's Sasha Bogursky on Twitter @SashaFB.