Kelly Clarkson reveals extreme weight loss at Simon Cowell's Hollywood Walk of Fame ceremony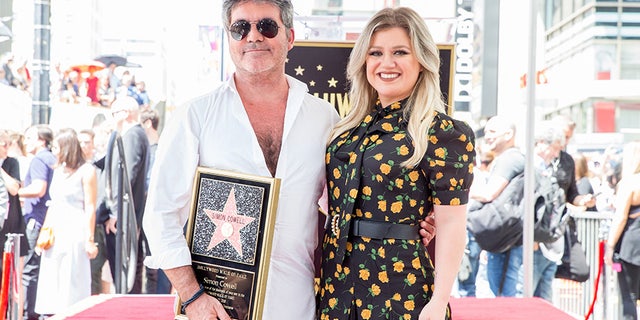 Kelly Clarkson showed off her slim figure during a ceremony Wednesday honoring her friend and former "American Idol" judge Simon Cowell on the Hollywood Walk of Fame.
The 36-year-old "Idol" alum stunned in a belted black and yellow floral dress, posing for pictures with the "America's Got Talent" judge. She also stepped up to a podium to thank the 58-year-old for his continued support through the years.
"He's the best friend you can ever have … He's honest and supportive," she reportedly commented, as Cowell was awarded with a star on the famous Hollywood boulevard. "[Simon] appreciates authenticity even if it's not something he's into. He appreciates you being yourself. That's very rare in this industry."
In June, Clarkson admitted she had been struggling with an autoimmune disease and thyroid issue, which made it difficult for her to lose weight. But eventually, she said, she found a way to get leaner — and it wasn't thanks to exercise.
KELLY CLARKSON REVEALS SECRET TO HER EXTREME WEIGHT LOSS DOESN'T INVOLVE EXERCISE
Instead, Clarkson credited a book with changing her life.
"I literally read this book, and I did it for this autoimmune disease that I had and I had a thyroid issue, and now all my levels are back up. I'm not on medicine anymore because of this book," Clarkson told Extra, referring to "The Plant Paradox" by Steven R. Gundry.
By following methods outlined in the book, Clarkson said she has dropped nearly 40 pounds.
Clarkson explained the book focuses on how food can be cooked with "non-GMO, no pesticides," focusing on an organic diet.
KELLY CLARKSON FIRES BACK AT OPENLY GAY 'VOICE' CONTESTANT WHO ACCUSED HER OF BEING 'SMALL-MINDED'
"I'm not working out! I think people think I'm working out and I'm like, 'Don't think I'm going to come play some sport!'" she told Extra in June, adding that her exercise routine hasn't changed one bit.
The singer posted photos from the special ceremony on her Instagram account Wednesday, garnering more than 120,000 likes and hundreds of comments within 24 hours.
"Congrats Simon. Every time I see Kelly she is looking better and better," one Instagram user commented.
"You look so good Kelly! Good job momma!!" another added.
"I'm a fan of you both!! Congrats Simon! Kelly you look gorgeous!!" one fan wrote.
Cowell thanked Clarkson for her kind words Wednesday as he took the mic, joking, "Why did this take so long?"
"I also want to thank all the fans who bought the records, who watched the TV shows because again, without that we wouldn't be here. … It's been a blast the last 18 years. If anyone says fame is a bad thing, I don't know what you're talking about. It's the best thing in the world. Thank you all of you for turning up and making this happen," Cowell added, according to Variety.
Former "Idol" stars Katharine McPhee and Adam Lambert were among celebrities in the crowd cheering on Cowell on his big day.
Fox News' Madeline Farber contributed to this report.