Katy Perry rumored to be dating John Mayer: Who is Mayer's hottest girlfriend?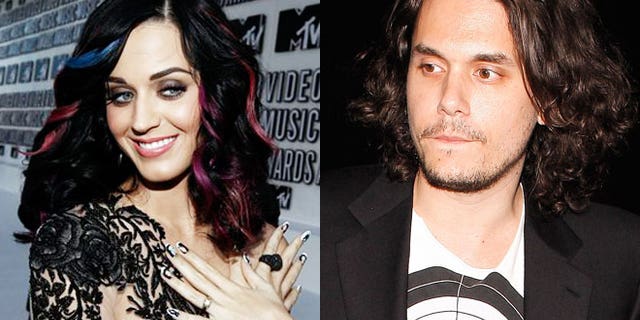 Say what you will about John Mayer, he certainly has a way with the ladies. The infamous lothario appears to have bagged another bodacious beauty in Katy Perry.
Perry, 27, was hanging with Mayer, 34, in West Hollywood back on June 19, a spy tells Us Weekly. "They were affectionate, holding hands and cuddling!" the witness says.
SODAHEAD SLIDESHOW: See John Mayer's hottest girlfriends. http://www.sodahead.com/entertainment/katy-perry-rumored-to-be-dating-john-mayer-who-is-mayers-hottest-girlfriend/question-2849979/
Then the couple was photographed together for the first time in L.A. on Wednesday night, after having dinner together at the trendy Chateau Marmont, an observer tells Us Weekly. During the meal, Mayer and Perry were reportedly "holding hands across the table" and kissing. "They're just hooking up right now," a source tells the mag. "It's not serious -- yet!"
Perry, as you probably know, recently finalized her divorce from British funnyman Russell Brand. Mayer is infamous for having dated (and dumped) such stars as Jennifer Aniston, Taylor Swift and Jessica Simpson.
PHOTOS: See the latest celebrity pictures to hit the Internet.
Bad reputation aside, Mayer certainly has an eye for the hotties ... from Katy to Jen to Taylor, let us know: Who is Mayer's hottest-ever girlfriend?